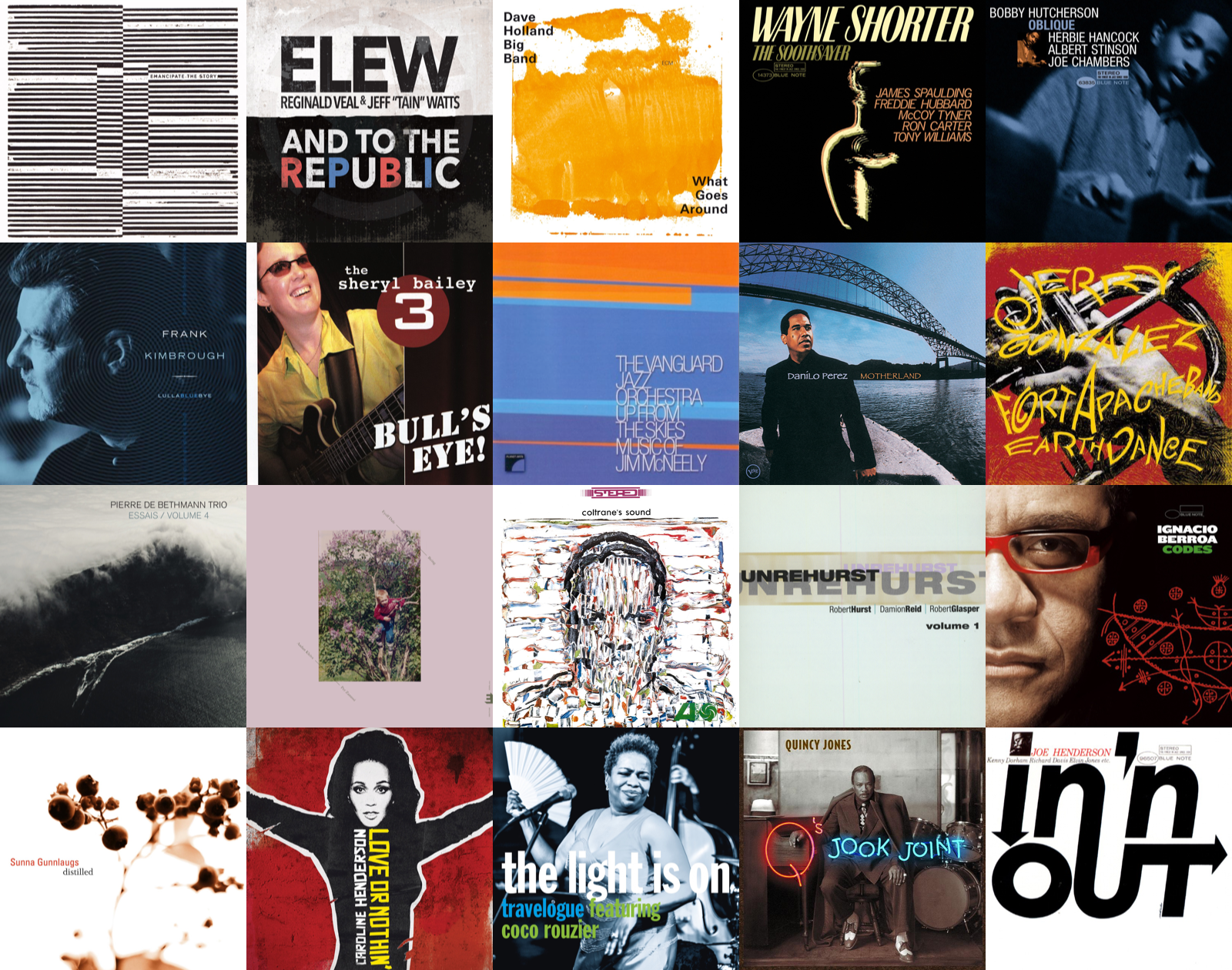 #jazzchurch 36 – Sunday, January 3, 2021 – featured music by Bokani Dyer, Frank Kimbrough, Dave Holland, Vanguard Jazz Orchestra, Danilo Perez, John Coltrane, and Sunna Gunnlaugs, among others shown below:
Fanfare (Bokani Dyer)
Tones for Elvin Jones (ELEW with Jeff "Tain" Watts & Reginald Veal)
Triple Dance (Dave Holland Big Band)
Lost (Wayne Shorter)
Oblique (Bobby Hutcherson)
You Only Live Twice (Frank Kimbrough)
Elvin People (The Sheryl Bailey 3)
Don't Even Ask (Vanguard Jazz Orchestra)
Panamá Libre (Danilo Perez)
Eighty-One (Jerry Gonzalez)
Anthropology (Pierre de Bethmann Trio)
Tales (Bokani Dyer)
Northern Brewer (Eyolf Dale)
Body and Soul (John Coltrane)
Unflurgenized Colorations (Robert Hurst)
La Comparsa (Ignacio Berroa)
Things You Should Know (Sunna Gunnlaugs)
Jazz Ain't Nothing But Soul (Caroline Henderson)
Jazz Ain't Nothin' but Soul (Travelogue)
Stomp! (Cast of Stomp & Various Artists)
Short Story (Joe Henderson)
Soul Makossa (Manu Dibango)
Livestream Replay
Here's an Apple Music Playlist containing songs from this episode of #JazzChurch:

Give us some feedback on #jazzchurch.

Next week's #jazzchurch livestream can be found at postbop.com/jazzchurch Streaming live from 1-3ish PM PDT. All past episodes are available here as well.
Where else can I find #JazzChurch?
Postbop.com: Livestream plus audio archives and information for all past shows
Twitch Livestream: 1-3pm-ish PST on Sundays plus audio/video of recent shows
Soundcloud: Listen to past shows and subscribe to receive notifications and listen to future shows