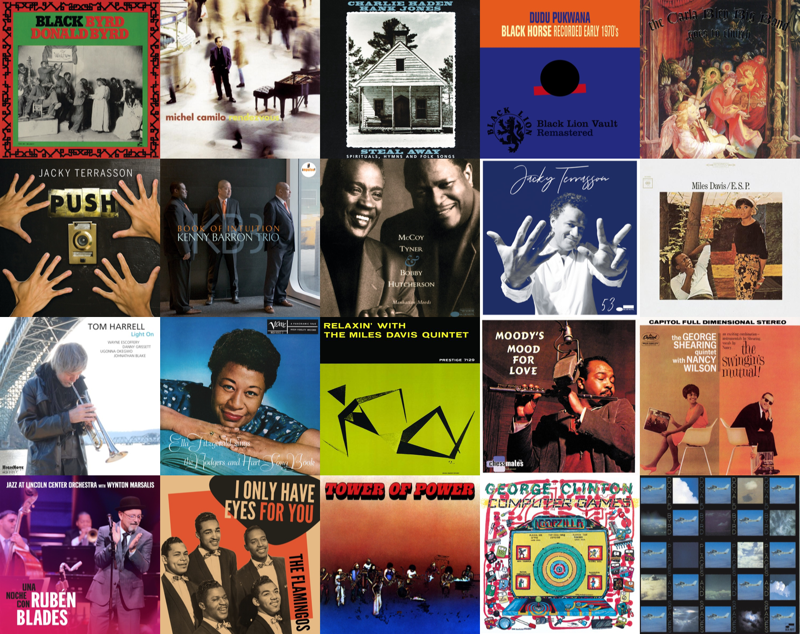 #JazzChurch 95 – Sunday, February 20, 2022 – we listened to Donald Byrd, Hugh Masekela, Michel Camilo, Charlie Haden, Eva Cassidy, Jacky Terrasson, Kenny Barron Trio, McCoy Tyner & Bobby Hutcherson, Miles Davis, Ella Fitzgerald, Nancy Wilson, Rubén Blades, The Flamingos, Tower Of Power, and George Clinton + commentary from Rev. Bill E. Bob! :-) We made a #JoyfulNoise! 🎶🎙🎵
Black Byrd – Donald Byrd
Nomali – Hugh Masekela
Rendezvous – Michel Camilo
Wade in the Water – Charlie Haden
Dmnt Freeze – Dudu Pukwana
One Way – The Carla Bley Big Band
My Church – Jacky Terrasson
Oh, Had I a Golden Thread – Eva Cassidy
Magic Dance – Kenny Barron Trio
Blue Monk – McCoy Tyner & Bobby Hutcherson
Palindrome – Jacky Terrasson
E.S.P. – Miles Davis
Bad Stuff – Tom Harrell
Medieval Overture – Return To Forever
I Could Write a Book – Ella Fitzgerald & Buddy Bregman
I Could Write A Book – Miles Davis Quintet
I'm in the Mood for Love – James Moody
On Green Dolphin Street – George Shearing Quintet & Nancy Wilson
I Can't Give You Anything but Love – Jazz at Lincoln Center Orchestra, Wynton Marsalis & Ruben Blades
I Only Have Eyes for You – The Flamingos
What Is Hip? – Tower Of Power
Atomic Dog – George Clinton
Change (Makes You Want to Hustle) – Donald Byrd
We also played the following songs from YouTube:
Rev. Timothy Wright — Trouble Don't Last Always
Stanley Clark and Chick Corea — No Mystery
May Patcharapong - Run For Cover
Samara Joy at Emmet's Place — If You Could See Me Now
Apple Music Playlist
Here's an Apple Music Playlist containing songs from this episode of #JazzChurch:
Next week's #jazzchurch live stream can be found at postbop.com/jazzchurch Streaming live from 1-4ish PM PST. Past episodes are available here as well.
Postbop.com: Livestream plus audio archives and information for all past shows
Twitch Livestream: 1-4pm-ish PST on Sundays plus audio/video of recent shows
Soundcloud: Listen to past shows and subscribe to receive notifications and listen to future shows