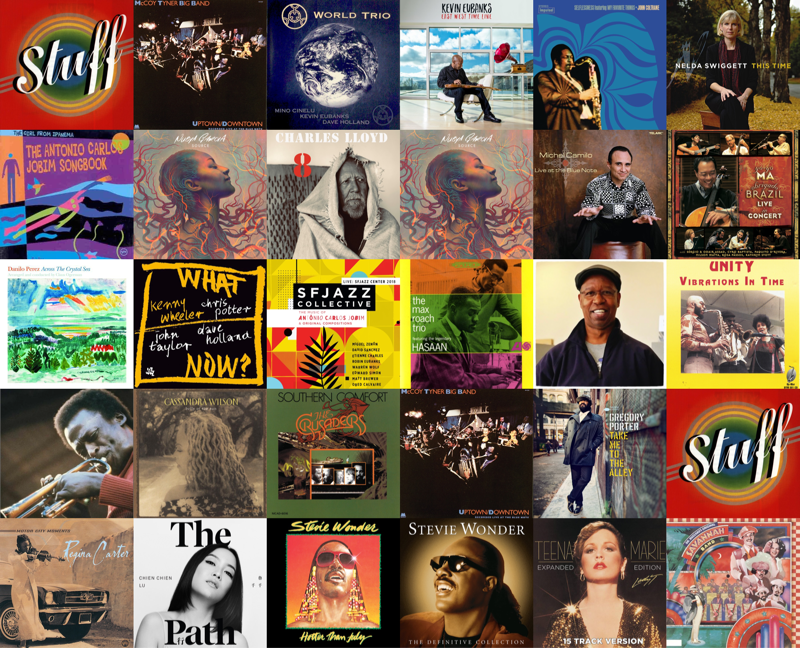 #JazzChurch 98 – Sunday, March 13, 2022 – Celebrating the birthday of Mrs. Rev. Dr. Bill E. Bob today. We listened to Nelda Swiggett, Elis Regina & Antônio Carlos Jobim, Michel Camilo, Cyro Baptista, Nilson Matta, Rosa Passos & Yo-Yo Ma, Danilo Perez, Max Roach, Bill Berry, Byron Morris and Unity, Lawrence Jennings (Mudita), Cassandra Wilson, The Crusaders, Gregory Porter, Regina Carter, Teena Marie, and Dr. Buzzard's. Original Savannah Band + commentary from Rev. Bill E. Bob! :-) 🎶🎙🎵
My Sweetness – Stuff
Three Flowers – McCoy Tyner Big Band
The Arch Mage – Dave Holland, Mino Cinelu, Kevin Eubanks
Take the Coltrane – Kevin Eubanks
I Want to Talk About You – John Coltrane
Jack and the Key Boo Ba – Nelda Swiggett
Aguas De Marco – Elis Regina & Antônio Carlos Jobim
Together Is A Beautiful Place To Be – Nubya Garcia
Requiem – Charles Lloyd
Stand With Each Other – Nubya Garcia
Happy Birthday / Blue Bossa – Michel Camilo
Aguas de Marco – Cyro Baptista, Nilson Matta, Rosa Passos & Yo-Yo Ma
Across The Crystal Sea – Danilo Perez
March Mist - Dave Holland – Kenny Wheeler
Waters of March – SFJAZZ Collective
Three-Four vs. Six-Eight Four-Four Ways – Max Roach
Happy Birthday, Bari!! – Bill Berry
Theme for Rahsaan – Byron Morris and Unity
And Miles To Go Before I Sleep – Lawrence Jennings (Mudita)
Waters Of March – Cassandra Wilson
Greasy Spoon – The Crusaders
Love Surrounds Us – McCoy Tyner Big Band
Take Me to the Alley – Gregory Porter
Happy Farms – Stuff
Higher Ground – Regina Carter
Blind Faith – Chien Chien Lu
All I Do – Stevie Wonder
Do I Do – Stevie Wonder
Behind the Groove – Teena Marie
Sour & Sweet/Lemon In The Honey – Dr. Buzzard'S Original Savannah Band
AfterParty
Rev. Dr. Bill E. Bob plays his bass on "Little Sunflower" at the Joeseppi's Jam Session:
Apple Music Playlist
Here's an Apple Music Playlist containing songs from this episode of #JazzChurch:
Next week's #jazzchurch live stream can be found at postbop.com/jazzchurch Streaming live from 1-4ish PM PST. Past episodes are available here as well.
Postbop.com: Livestream plus audio archives and information for all past shows
Twitch Livestream: 1-4pm-ish PST on Sundays plus audio/video of recent shows
Soundcloud: Listen to past shows and subscribe to receive notifications and listen to future shows