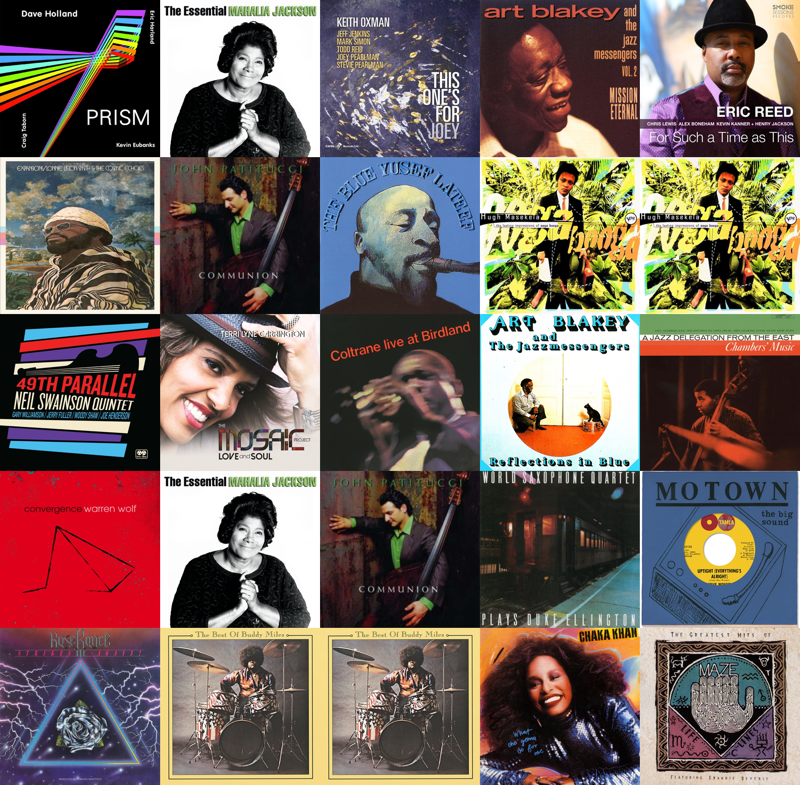 #JazzChurch 107 – Sunday, May 15, 2022
Today we listened to Mahalia Jackson, Dave Holland, Eric Reed, John Patitucci, Yusef Lateef, Hugh Masekela, Terri Lyne Carrington, Paul Chambers, Warren Wolf, World Saxophone Quartet, The Temptations, Rose Royce, Buddy Miles, Chaka Khan, and Kurtis Blow & Frankie Beverly.
Thanks for being part of #JazzChurch! We made a #JoyfulNoise! 🎶🎙🎵
The Watcher – Dave Holland
Come Sunday – Duke Ellington
Garden Song – Keith Oxman
A Chant for Bu – Art Blakey & The Jazz Messengers
Come Sunday – Eric Reed
Expansions – Lonnie Liston Smith & The Cosmic Echoes
Soul Eyes – John Patitucci
Get Over, Get Off, and Get On – Yusef Lateef
Unhlanhia – Hugh Masekela
Cantelope Island – Hugh Masekela
49th Parallel – Neil Swainson Quintet
Come Sunday – Terri Lyne Carrington feat. Natalie Cole
I Want To Talk About You – John Coltrane
Stretching – Art Blakey & The Jazz Messengers
Visitation – Paul Chambers feat. John Coltrane
Four Stars from Heaven – Warren Wolf
Down By the Riverside – Mahalia Jackson
The Sower – John Patitucci
Come Sunday – World Saxophone Quartet
Don't Look Back – The Temptations
Love Don't Live Here Anymore – Rose Royce
Down by the River – Buddy Miles
We Got to Live Together – Buddy Miles
What Cha' Gonna Do for Me – Chaka Khan
Joy and Pain – MAZE & Frankie Beverly with Kurtis Blow
---
#JazzChurch Feedback and Suggestions
Rev. Bill E. Bob is looking for feedback on #JazzChurch! If you have a moment, please visit #JazzChurch Feedback and share your thoughts. Thanks!
---
Apple Music Playlist
Here's an Apple Music Playlist containing songs from this episode of #JazzChurch:
Next week's #JazzChurch live stream can be found at postbop.com/jazzchurch Streaming live from 1-4ish PM PST. Past episodes are available here as well.
Postbop.com: Livestream plus audio archives and information for all past shows
Twitch Livestream: 1-4pm-ish PST on Sundays plus audio/video of recent shows
Soundcloud: Listen to past shows and subscribe to receive notifications and listen to future shows