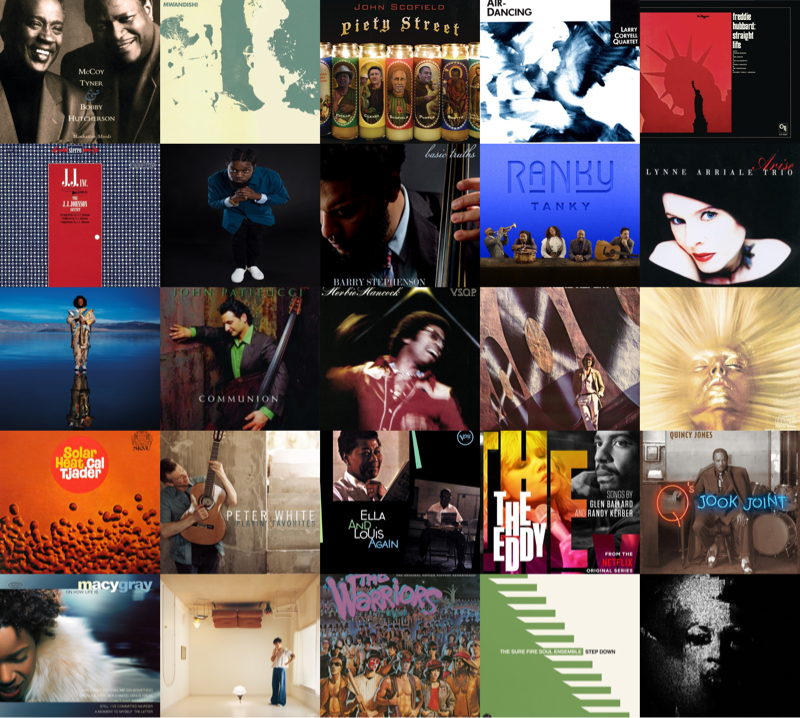 Today we listened to Herbie Hancock, the Larry Coryell Quartet, Freddie Hubbard, J.J. Johnson, Soweto Kinch, Barry Stephenson, Ranky Tanky, Herb Alpert, Cal Tjader, Ella Fitzgerald & Louis Armstrong, Macy Gray, and Mandrill.
Thanks for being part of #JazzChurch! We made a #JoyfulNoise! 🎶🎙🎵
Travelin' Blues – McCoy Tyner & Bobby Hutcherson
You'll Know When You Get There – Herbie Hancock
Something's Got a Hold On Me – John Scofield
Sienna "Welcome, My Darling" – Larry Coryell Quartet
Straight Life – Freddie Hubbard
In Walked Horace – J.J. Johnson
The Anatomy of Hate – Soweto Kinch
Message from Abrasive Negro: It Is What It Is (Y'all Ain't Ready) – Barry Stephenson
Stand by Me – Ranky Tanky
Lean on Me – Lynne Arriale Trio
Hub-Tones – Kamasi Washington
Communion – John Patitucci
Toys – Herbie Hancock
Rise – Herb Alpert
Sun Goddess – Earth, Wind & Fire feat. Ramsey Lewis
Solar Heat – Cal Tjader
Sunny – Peter White
Gee, Baby, Ain't I Good To You? – Ella Fitzgerald & Louis Armstrong
Kiss Me In The Morning – The Eddy & Jorja Smith feat. Jorja Smith
Moody's Mood for Love (I'm In the Mood for Love) – Quincy Jones, James Moody, Brian McKnight, Take 6 & Rachelle Ferrell
Do Something – Macy Gray
As It Was – Harry Styles
Echoes In My Mind – Mandrill
Step Down – The Sure Fire Soul Ensemble
Hub Tones – Nomumbah
---
#JazzChurch Feedback and Suggestions
Rev. Bill E. Bob is looking for feedback on #JazzChurch! If you have a moment, please visit #JazzChurch Feedback and share your thoughts. Thanks!
---
Apple Music Playlist
Here's an Apple Music Playlist containing songs from this episode of #JazzChurch:
Next week's #JazzChurch live stream can be found at postbop.com/jazzchurch Streaming live from 1-4ish PM PST. Past episodes are available here as well.
Postbop.com: Livestream plus audio archives and information for all past shows
Twitch Livestream: 1-4pm-ish PST on Sundays plus audio/video of recent shows
Soundcloud: Listen to past shows and subscribe to receive notifications and listen to future shows