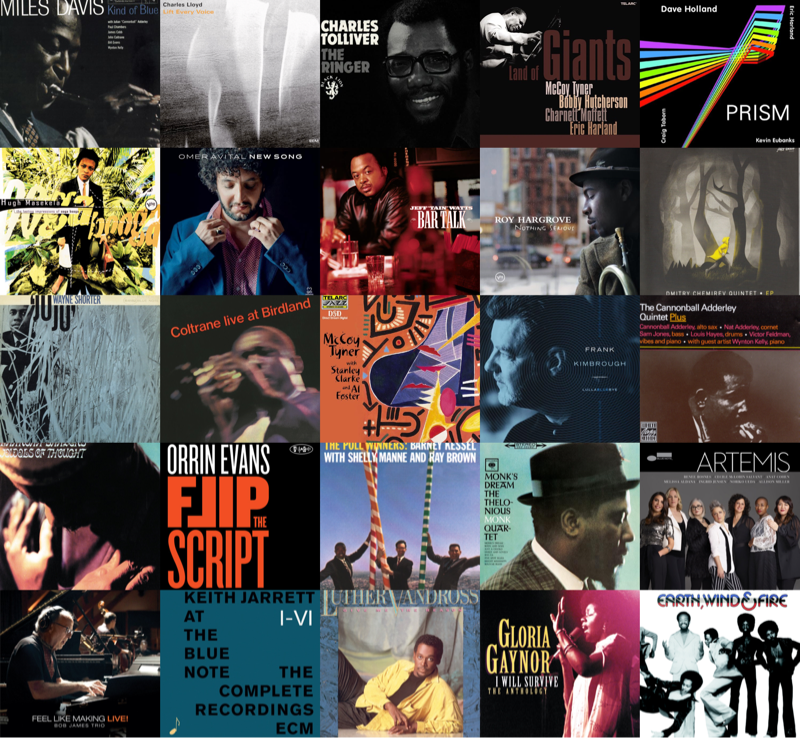 #JazzChurch 109 – Sunday, May 29, 2022
Today we listened to Dave Holland & Prism, Hugh Masekela, Wayne Shorter, John Coltrane, McCoy Tyner, Cannonball Adderley, Pharoah Sanders, Orrin Evans, Thelonious Monk, ARTEMIS, Luther Vandross, Gloria Gaynor, and Earth, Wind & Fire.
Thanks for being part of #JazzChurch! We're made a #JoyfulNoise! 🎶🎙🎵
So What – Miles Davis
Deep River – Charles Lloyd
Plight – Charles Tolliver
Contemplation – McCoy Tyner
A New Day – Dave Holland & Prism
Masquenada – Hugh Masekela
New Song – Omer Avital
Kiss – Jeff "Tain" Watts
Book's Bossa – Roy Hargrove
New Song – Dmitry Chemirev Quintet
Deluge – Wayne Shorter
Alabama – John Coltrane
The Night Has A Thousand Eyes – McCoy Tyner
You Only Live Twice – Frank Kimbrough
Arriving Soon – Cannonball Adderley
Hum-Allah-Hum-Allah-Hum Allah – Pharoah Sanders
The Answer – Orrin Evans
On Green Dolphin Street – Barney Kessel, Ray Brown & Shelly Manne
Bright Mississippi – Thelonious Monk
The Fool On The Hill – ARTEMIS
Maputo – Bob James
Close Your Eyes – Keith Jarrett
Anyone Who Had a Heart – Luther Vandross
I Will Survive – Gloria Gaynor
That's the Way of the World – Earth, Wind & Fire
---
#JazzChurch Feedback and Suggestions
Rev. Bill E. Bob is looking for feedback on #JazzChurch! If you have a moment, please visit #JazzChurch Feedback and share your thoughts. Thanks!
---
Apple Music Playlist
Here's an Apple Music Playlist containing songs from this episode of #JazzChurch:
Next week's #JazzChurch live stream can be found at postbop.com/jazzchurch, Streaming live from 1-4ish PM PST. Past episodes are available here as well.
Postbop.com: Livestream plus audio archives and information for all past shows
Twitch Livestream: 1-4pm-ish PST on Sundays plus audio/video of recent shows
Soundcloud: Listen to past shows and subscribe to receive notifications, and listen to future shows