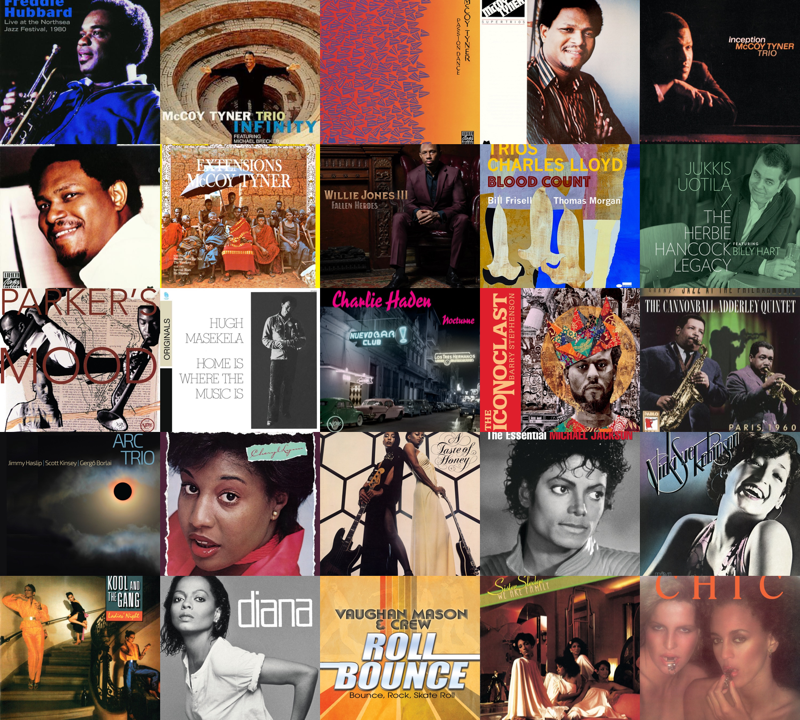 #JazzChurch 111 – Sunday, June 12, 2022
Today we listened to Freddie Hubbard, McCoy Tyner, Willie Jones III, Charles Lloyd, Hugh Masekela, Charlie Haden, Cannonball Adderley, Cheryl Lynn, A Taste of Honey, Michael Jackson, Vicki Sue Robinson, Kool & The Gang, Diana Ross, Sister Sledge, and Chic.
Thanks for being part of #JazzChurch! We made a #JoyfulNoise! 🎶🎙🎵
One Of A Kind – Freddie Hubbard
Flying High – McCoy Tyner Trio feat. Michael Brecker
Moment's Notice – McCoy Tyner, Ron Carter & Tony Williams
Wave – McCoy Tyner
Effendi – McCoy Tyner Trio
One Of Another Kind – McCoy Tyner
His Blessings – McCoy Tyner
Trust – Willie Jones III
Blood Count – Charles Lloyd feat. Bill Frisell
Toys – Jukkis Uotila feat. Billy Hart
Chasin' the Bird – Christian McBride & Roy Hargrove
Blues For Huey – Hugh Masekela
Nocturnal – Charlie Haden
Remnants of a Reverie – Barry Stephenson
Jeannine – Cannonball Adderley
Star Eyes – Christian McBride, Roy Hargrove & Stephen Scott
West Orange – Jimmy Haslip, Scott Kinsey & Gergö Borlai feat. Steve Tavaglione
Got to Be Real – Cheryl Lynn
Boogie Oogie Oogie – A Taste of Honey
Shake Your Body (Down To The Ground) – Michael Jackson
Turn the Beat Around – Vicki Sue Robinson
Ladies Night – Kool & The Gang
I'm Coming Out – Diana Ross
Bounce, Rock, Skate, Roll – Vaughan Mason and Crew
Lost in Music – Sister Sledge
Dance, Dance, Dance (Yowsah, Yowsah, Yowsah) – Chic
Everybody Dance – Chic
São Paulo – Chic
---
#JazzChurch Feedback and Suggestions
Rev. Bill E. Bob is looking for feedback on #JazzChurch! If you have a moment, please visit #JazzChurch Feedback and share your thoughts. Thanks!
---
Apple Music Playlist
Here's an Apple Music Playlist containing songs from this episode of #JazzChurch:
Next week's #JazzChurch live stream can be found at postbop.com/jazzchurch, Streaming live from 1-4ish PM PST. Past episodes are available here as well.
Postbop.com: Livestream plus audio archives and information for all past shows
Twitch Livestream: 1-4pm-ish PST on Sundays plus audio/video of recent shows
Soundcloud: Listen to past shows and subscribe to receive notifications, and listen to future shows