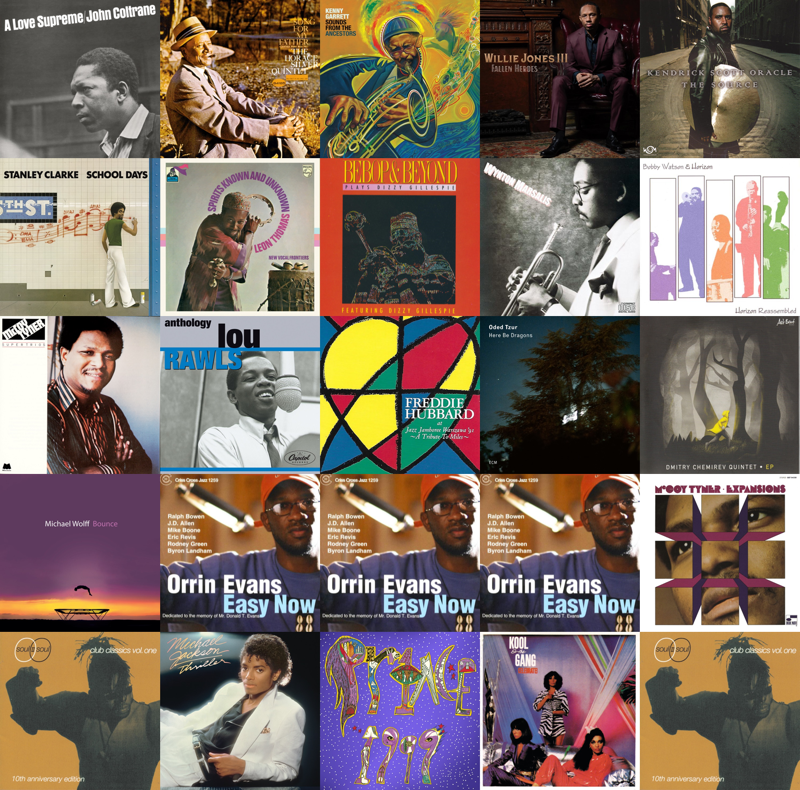 #JazzChurch 112 – Sunday, June 19, 2022
Today we listened to John Coltrane, Horace Silver, Kenny Garrett, Stanley Clarke, Leon Thomas, Bebop & Beyond, Wynton Marsalis, Bobby Watson, McCoy Tyner, Lou Rawls, Freddie Hubbard, Orrin Evans, Soul II Soul, Michael Jackson, Prince, and Kool & The Gang.
Thanks for being part of #JazzChurch! We made a #JoyfulNoise! 🎶🎙🎵
Acknowledgement, Pt. 1 – John Coltrane
Song for My Father – Horace Silver
Sounds from the Ancestors – Kenny Garrett
To Wisdom, The Prize – Willie Jones III
Retrospect – Kendrick Scott Oracle
School Days – Stanley Clarke
Song for My Father – Leon Thomas
Father Time – Bebop & Beyond
Father Time – Wynton Marsalis
Pere – Bobby Watson
Lush Life – McCoy Tyner
It Was a Very Good Year – Lou Rawls
Bolivia – Freddie Hubbard
Here Be Dragons – Oded Tzur
New Song – Dmitry Chemirev Quintet
Bounce – Michael Wolff
Don't Fall Off The L.e.j. – Orrin Evans
Dorm Life – Orrin Evans
Song For My Father – Orrin Evans
Peresina – McCoy Tyner
Back to Life (However Do You Want Me) – Soul II Soul & Caron Wheeler
Beat It – Michael Jackson
1999 – Prince
Celebration) – Kool & The Gang
Keep On Movin' – Soul II Soul & Caron Wheeler
---
#JazzChurch Feedback and Suggestions
Rev. Bill E. Bob is looking for feedback on #JazzChurch! If you have a moment, please visit #JazzChurch Feedback and share your thoughts. Thanks!
---
Apple Music Playlist
Here's an Apple Music Playlist containing songs from this episode of #JazzChurch:
Next week's #JazzChurch live stream can be found at postbop.com/jazzchurch, Streaming live from 1-4ish PM PST. Past episodes are available here as well.
Postbop.com: Livestream plus audio archives and information for all past shows
Twitch Livestream: 1-4pm-ish PST on Sundays plus audio/video of recent shows
Soundcloud: Listen to past shows and subscribe to receive notifications, and listen to future shows