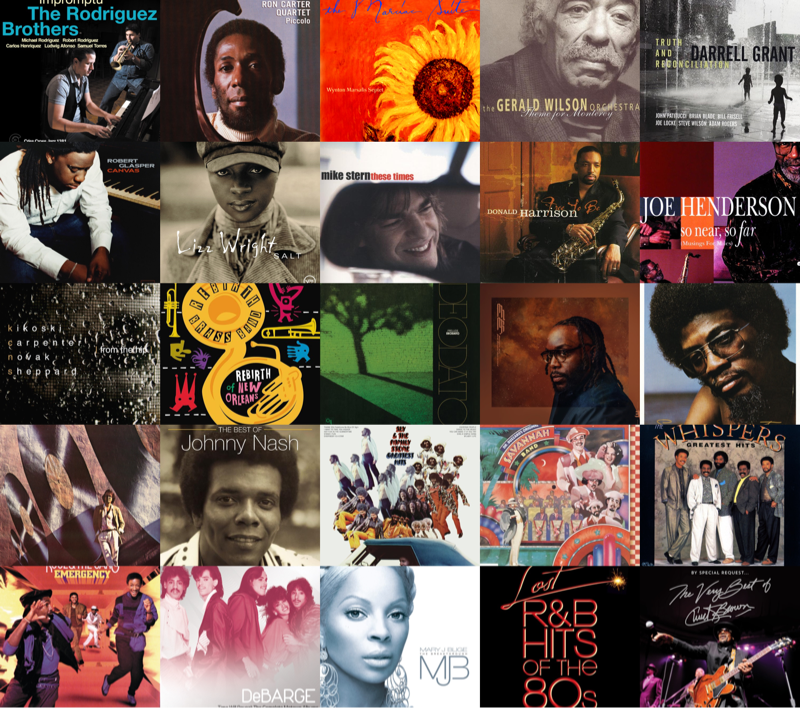 #JazzChurch 113 – Sunday, June 26, 2022
Today we listened to Gerald Wilson, Darrell Grant, Robert Glasper, Lizz Wright, Mike Stern, Donald Harrison, Joe Henderson, Rebirth Brass Band, Marquis Hill, Herb Alpert, Johnny Nash, Dr. Buzzard's, Mary J. Blige, and Chuck Brown.
Thanks for being part of #JazzChurch! We made a #JoyfulNoise! 🎶🎙🎵
Impromptu – The Rodriguez Brothers
Sunshower – Ron Carter Quartet
Sunflowers – Wynton Marsalis
Summertime – Gerald Wilson
Reconciliation – Darrell Grant
Enoch's Meditation – Robert Glasper
Walk with Me, Lord – Lizz Wright
These Times – Mike Stern
Free To Be – Donald Harrison
Joshua – Joe Henderson
Star Eyes – David Kikoski, Gary Novak, Bob Sheppard & Dave Carpenter
You Know You Know – Rebirth Brass Band
Also Sprach Zarathustra – Deodato
The Believer – Marquis Hill
Gentle Thoughts – Herbie Hancock
Rise – Herb Alpert
I Can See Clearly Now – Johnny Nash
Hot Fun in the Summertime – Sly & The Family Stone
Sunshower – Dr. Buzzard's
Rock Steady – The Whispers
Fresh – Kool & The Gang
Rhythm Of The Night – DeBarge
Show Love – Mary J. Blige
Da' Butt – E.U.
Moody's Mood For Love – Chuck Brown & The Soul Searchers
---
#JazzChurch Feedback and Suggestions
Rev. Bill E. Bob is looking for feedback on #JazzChurch! Please visit #JazzChurch Feedback if you have a moment and share your thoughts. Thanks!
---
Apple Music Playlist
Here's an Apple Music Playlist containing songs from this episode of #JazzChurch:
Next week's #JazzChurch live stream can be found at postbop.com/jazzchurch, Streaming live from 1-4ish PM PST. Past episodes are available here as well.
Postbop.com: Livestream plus audio archives and information for all past shows
Twitch Livestream: 1-4pm-ish PST on Sundays plus audio/video of recent shows
Soundcloud: Listen to past shows and subscribe to receive notifications, and listen to future shows