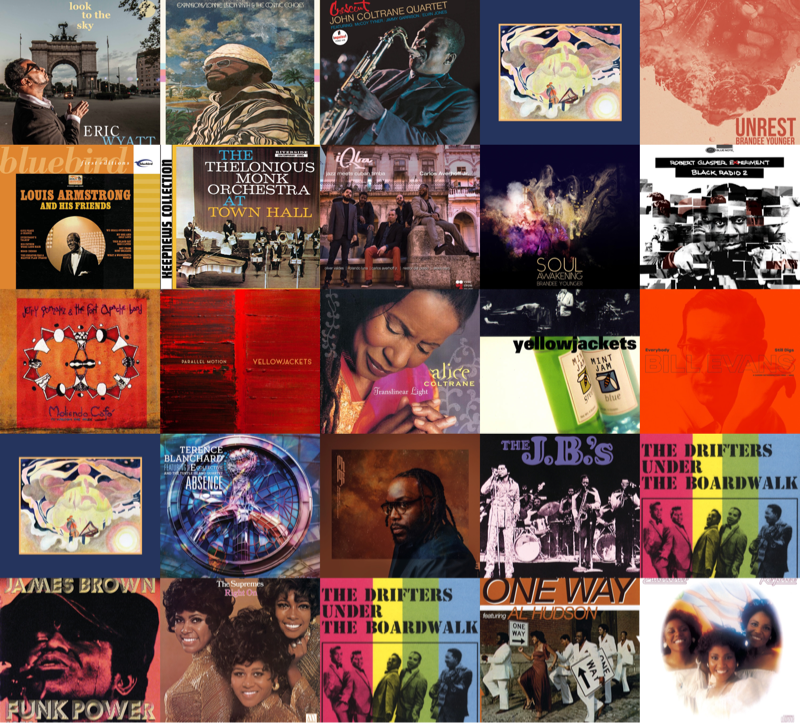 Today we listened to Eric Wyatt, Lonnie Liston Smith, John Coltrane Quartet, Dezron Douglas & Brandee Younger, Louis Armstrong, Thelonious Monk Orchestra, Alice Coltrane, The Yellowjackets, The Drifters, James Brown, and The Emotions. We also listened to James Earl Jones' rendition of Frederick Douglass' 1852 speech, "The Meaning of July Fourth for the Negro (embedded below)."
Thanks for being part of #JazzChurch! We made a #JoyfulNoise! 🎶🎙🎵
Look to the Sky – Eric Wyatt
Expansions – Lonnie Liston Smith & The Cosmic Echoes
Crescent – John Coltrane Quartet
Gospel Trane – Dezron Douglas & Brandee Younger
Unrest II – Brandee Younger
The Creator Has a Master Plan (Peace) – Louis Armstrong
Off Minor – Thelonious Monk Orchestra
Inner Urge – Carlos Averhoff Jr.
Blue Nile – Brandee Younger
Calls – Robert Glasper Experiment feat. Jill Scott
Summertime – Jerry Gonzalez & The Fort Apache Band
Intrigue – Yellowjackets
Walk With Me – Alice Coltrane
Les is Mo – The Yellowjackets
The Peacocks – Bill Evans
The Creator Has a Master Plan – Dezron Douglas & Brandee Younger
I Dare You – Terence Blanchard feat. Turtle Island Quartet
The Believer – Marquis Hill
Soul Power 74 – Maceo & The Macks
Up the Ladder to the Roof – The Supremes
Up On The Roof – The Drifters
Under the Boardwalk – The Drifters
On Broadway – The Drifters
You Can Do It feat. Al Hudson – One Way
Best of My Love – The Emotions
Soul Power – James Brown
---
The Meaning of July Fourth for the Negro" (July 5, 1852)
---
#JazzChurch Feedback and Suggestions
Rev. Bill E. Bob is looking for feedback on #JazzChurch! Please visit #JazzChurch Feedback if you have a moment and share your thoughts. Thanks!
---
Apple Music Playlist
Here's an Apple Music Playlist containing songs from this episode of #JazzChurch:
Next week's #JazzChurch live stream can be found at postbop.com/jazzchurch, Streaming live from 1-4ish PM PST. Past episodes are available here as well.
Postbop.com: Livestream plus audio archives and information for all past shows
Twitch Livestream: 1-4pm-ish PST on Sundays plus audio/video of recent shows
Soundcloud: Listen to past shows and subscribe to receive notifications, and listen to future shows