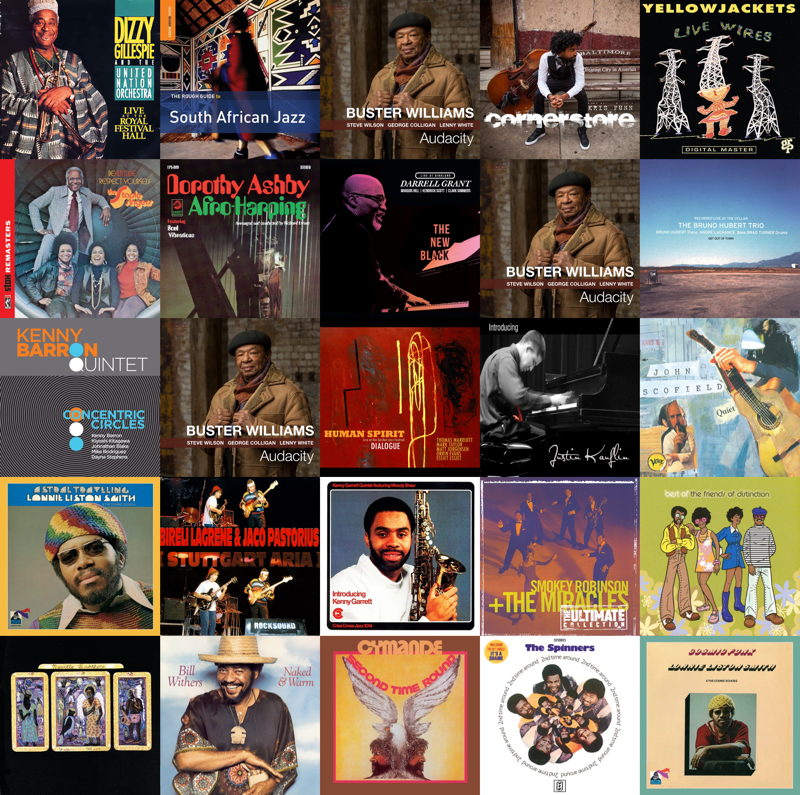 Today we listened to Buster Williams, Kris Funn, Yellowjackets, The Staple Singers, Dorothy Ashby, Darrell Grant, Human Spirit, Lonnie Liston Smith & The Cosmic Echoes, Bireli Lagrene and Jaco Pastorius, Kenny Garrett Quintet, The Miracles, The Friends of Distinction, Cymande, and The Spinners.
Thanks for being part of #JazzChurch! We made a #JoyfulNoise! 🎶🎙🎵
Tin Tin Deo – Dizzy Gillespie And The United Nations Orchestra
Soweto – Abdullah Ibrahim
Where Giants Dwell – Buster Williams
Thursday Night Prayer Meeting – Kris Funn
Revelation – Yellowjackets
Respect Yourself – The Staple Singers
Little Sunflower – Dorothy Ashby
The New Black – Darrell Grant
Song of the Outcasts – Buster Williams
Simone – Bruno Hubert Trio
Aquele Frevo Axé – The Kenny Barron Quintet
The New Bop – Darrell Grant
Lost on 4th Avenue – Buster Williams
In Unity – Human Spirit
A Day in the Life – Justin Kauflin
Rolf and the Gang – John Scofield
Rejuvenation – Lonnie Liston Smith & The Cosmic Echoes
The Days Of Wine And Roses – Bireli Lagrene and Jaco Pastorius
Have You Met Miss Jones – Kenny Garrett Quintet
You've Really Got A Hold On Me – The Miracles
I've Never Found a Girl (To Love Me Like You Do) – The Friends of Distinction
Voodoo – The Neville Brothers
Where Are You? – Bill Withers
Willy's Headache – Cymande
It's A Shame – The Spinners
Cosmic Funk – Lonnie Liston Smith & The Cosmic Echoes
---
#JazzChurch Feedback and Suggestions
Rev. Bill E. Bob is looking for feedback on #JazzChurch! Please visit #JazzChurch Feedback if you have a moment and share your thoughts. Thanks!
---
Apple Music Playlist
Here's an Apple Music Playlist containing songs from this episode of #JazzChurch:
Next week's #JazzChurch live stream can be found at postbop.com/jazzchurch, Streaming live from 1-4ish PM PST. Past episodes are available here as well.
Postbop.com: Livestream plus audio archives and information for all past shows
Twitch Livestream: 1-4pm-ish Pacific Time on Sundays
Soundcloud: Listen to past shows and subscribe to receive notifications, and listen to future shows