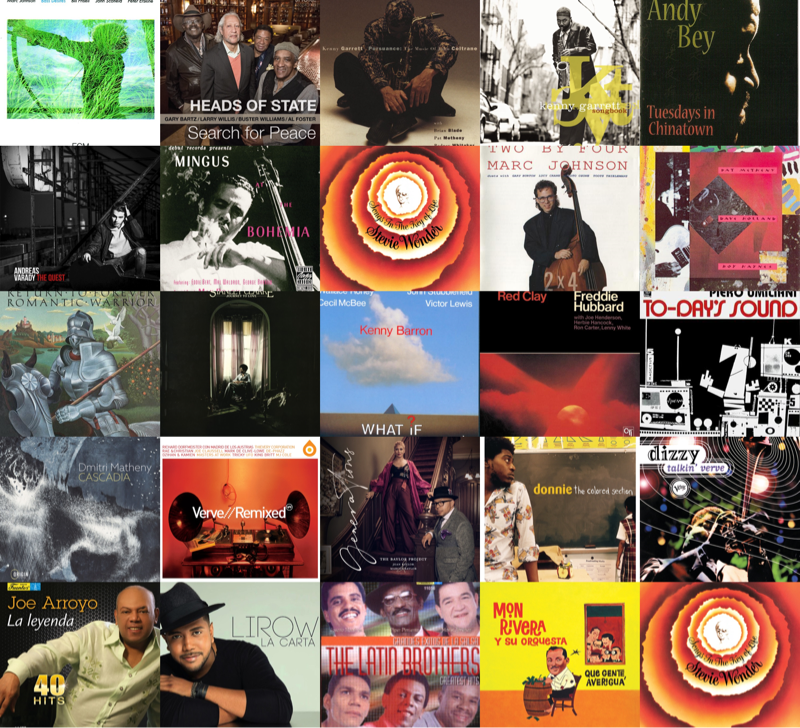 Today we listened to Marc Johnson, Heads of State, Kenny Garrett, Andy Bey, Andreas Varady, Charles Mingus, Return To Forever, Stanley Clarke, Kenny Barron, Dmitri Matheny, Ella Fitzgerald, The Baylor Project, and Stevie Wonder.
Thanks for being part of #JazzChurch! We made a #JoyfulNoise! 🎶🎙🎵
Resolution – Marc Johnson
Impressions – Heads of State
Pursuance – Kenny Garrett
2 Down & 1 Across – Kenny Garrett
I'll Remember April – Andy Bey
Radiska – Andreas Varady
Jump Monk – Charles Mingus
Love's In Need of Love Today – Stevie Wonder
Killer Joe – Marc Johnson
Samurai Hee-Haw – Marc Johnson
Old Folks – Pat Metheny With Dave Holland & Roy Haynes
The Romantic Warrior – Return To Forever
Concerto For Jazz/Rock Orchestra – Stanley Clarke
Voyage – Kenny Barron
Delphia – Freddie Hubbard
Bus Stop – Piero Umiliani
Cascadia – Dmitri Matheny
Wait 'Til You See Him – Ella Fitzgerald
Strivin' – The Baylor Project
Thanks Again – Marc Johnson
Cloud 9 – Donnie
Bang Bang – Dizzy Gillespie
En Barranquilla Me Quedo – Joe Arroyo
Amor, Amor – Lirow
Dime Que Paso – The Latin Brothers
Lluvia con Nieve – Mon Rivera
Another Star – Stevie Wonder
---
#JazzChurch Feedback and Suggestions
Rev. Bill E. Bob is looking for feedback on #JazzChurch! Please visit #JazzChurch Feedback if you have a moment and share your thoughts. Thanks!
---
Apple Music Playlist
Here's an Apple Music Playlist containing songs from this episode of #JazzChurch:
Next week's #JazzChurch live stream can be found at postbop.com/jazzchurch, Streaming live from 1-4ish PM PST. Past episodes are available here as well.
Postbop.com: Livestream plus audio archives and information for all past shows
Twitch Livestream: 1-4pm-ish Pacific Time on Sundays
Soundcloud: Listen to past shows and subscribe to receive notifications, and listen to future shows