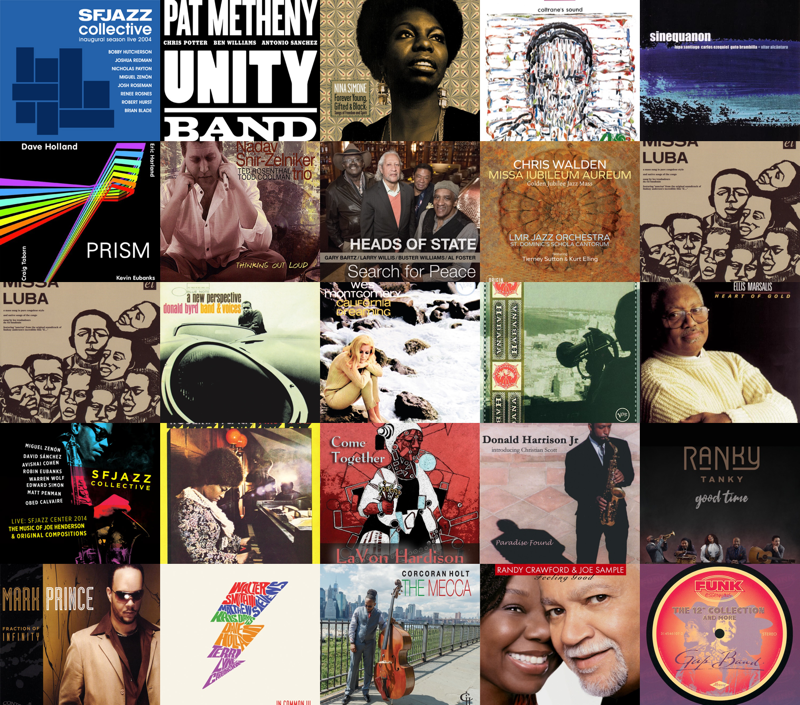 Today we listened to SFJAZZ Collective, Pat Metheny, Nina Simone, John Coltrane, Sine Qua Non, Dave Holland & Prism, Nadav Snir-Zelniker Trio, Heads of State, Donald Byrd, Roy Hargrove, Wes Montgomery, Roberta Flack, LaVon Hardison, Mark Prince, Joe Sample & Randy Crawford, and The Gap Band.
Thanks for being part of #JazzChurch! We made a #JoyfulNoise! 🎶🎙🎵
Lingala – SFJAZZ Collective
Come and See – Pat Metheny
Westwind – Nina Simone
Equinox – John Coltrane
Reza – Sine Qua Non
Evolution – Dave Holland & Prism
Interplay – Nadav Snir-Zelniker Trio
Lotus Blossom – Heads of State
Kyrie – Chris Walden, LMR Jazz Orchestra & St. Dominic's Schola Cantorum
Kyrie - Les Troubadours Du Roi Baudouin
Sanctus - Les Troubadours Du Roi Baudouin
Cristo Redentor – Donald Byrd
Sun Down – Wes Montgomery
Nusia's Poem – Roy Hargrove
I Can't Give You Anything But Love – Ellis Marsalis
Afro-Centric – SFJAZZ Collective
Tryin' Times – Roberta Flack
Sunny – LaVon Hardison
paradise found – Donald Harrison
Stand By Me – Ranky Tanky
Abena's Last Stand – Mark Prince
Loping – Walter Smith III & Matthew Stevens
Another Groove – Corcoran Holt
Tell Me More and More and Then Some – Joe Sample & Randy Crawford
Outstanding – The Gap Band
---
#JazzChurch Feedback and Suggestions
Rev. Bill E. Bob is looking for feedback on #JazzChurch! Please visit #JazzChurch Feedback if you have a moment and share your thoughts. Thanks!
---
Apple Music Playlist
Here's an Apple Music Playlist containing songs from this episode of #JazzChurch:
Next week's #JazzChurch live stream can be found at postbop.com/jazzchurch, Streaming live from 1-4ish PM PST. Past episodes are available here as well.
Postbop.com: Livestream plus audio archives and information for all past shows
Twitch Livestream: 1-4pm-ish Pacific Time on Sundays
Soundcloud: Listen to past shows and subscribe to receive notifications, and listen to future shows