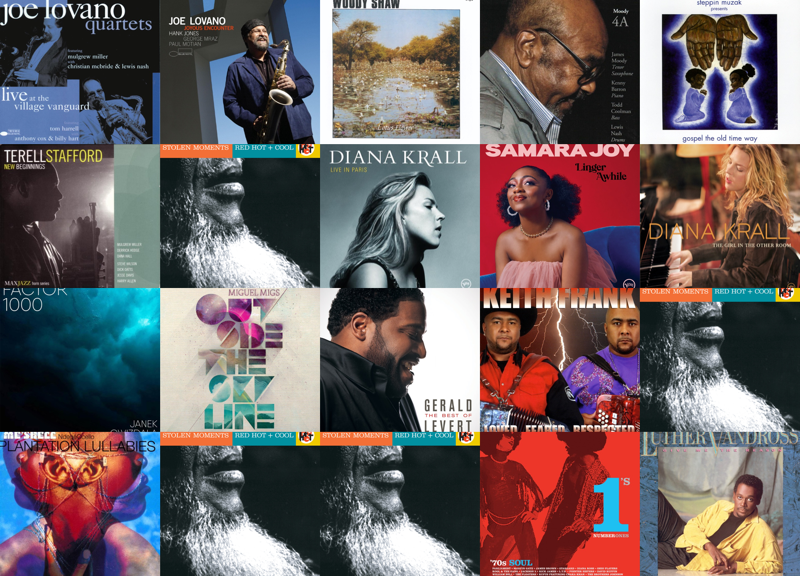 Today we listened to Joe Lovano, Woody Shaw, James Moody, Terell Stafford, Diana Krall, Samara Joy, Janek Gwizdala, Meshell Ndegeocello, The Floaters, The Brothers Johnson, Peaches & Herb, The Commodores, Ohio Players, Parliament, and Luther Vandross.
Thanks for being part of #JazzChurch! We made a #JoyfulNoise! 🎶🎙🎵
I Can't Get Started – Joe Lovano Quartet
Lonnie's Lament – Joe Lovano Quartet
Little Willie Leaps – Joe Lovano Quartet
Don't Ever Leave Me – Joe Lovano
Game – Woody Shaw
East of the Sun – James Moody
Open Our Clefs - The Gospel Eyes
He Knows How Much You Can Bear – Terell Stafford
Trouble Don't Last Always – Incognito & Carleen Anderson With Ramsey Lewis
East of the Sun (And West of the Moon) – Diana Krall
Let's Fall in Love – Diana Krall
Can't Get Out of This Mood – Samara Joy
Sometimes I Just Freak Out – Diana Krall
Factor 1000 – Janek Gwizdala
Close Your Eyes – Miguel & Me'Shell Ndegeocello
Casanova – Levert
Nocturnal Sunshine – Me'Shell Ndegeocello Feat. Herbie Hancock
I'm Diggin' You – Me'Shell Ndegeocello
Stolen Moments – United Future Organization
The Scream – Us3 With Joshua Redman And Tny Rémy
Float On – The Floaters
Strawberry Letter 23 – The Brothers Johnson
Reunited – Peaches & Herb
Three Times a Lady – The Commodores
Fire – Ohio Players
Flash Light – Parliament
So Amazing – Luther Vandross
---
Apple Music Playlist
Here's an Apple Music Playlist containing songs from this episode of #JazzChurch:
---
#JazzChurch Feedback and Suggestions
Rev. Bill E. Bob is looking for feedback on #JazzChurch! Please visit #JazzChurch Feedback if you have a moment and share your thoughts. Thanks!
---
Next week's #JazzChurch live stream can be found at postbop.com/jazzchurch, Streaming live from 1-4ish PM PST. Past episodes are available here as well.
Postbop.com: Livestream plus audio archives and information for all past shows
Twitch Livestream: 1-4pm-ish Pacific Time on Sundays
Soundcloud: Listen to past shows and subscribe to receive notifications, and listen to future shows