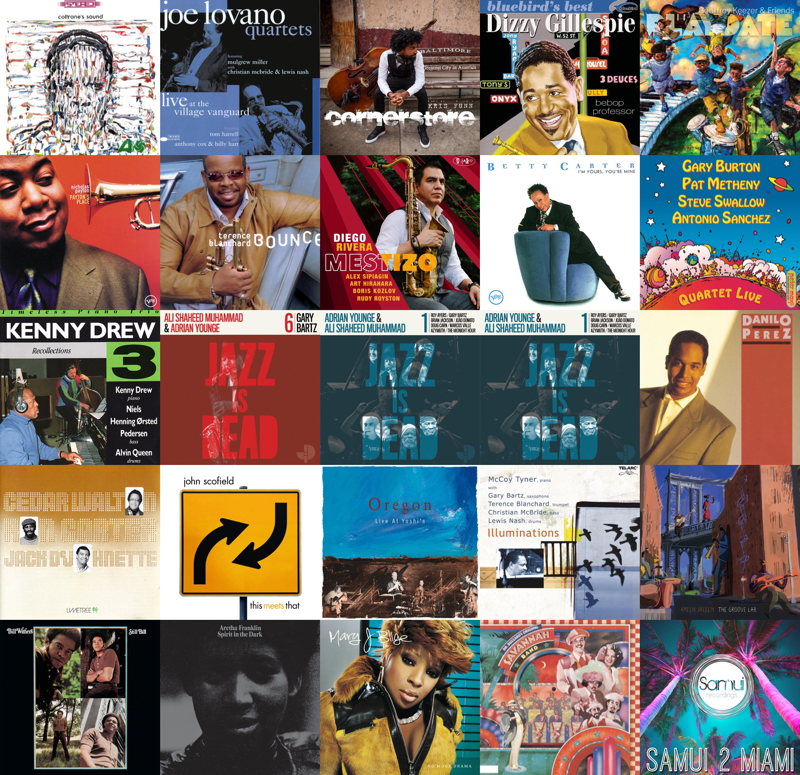 Today we listened to John Coltrane, Joe Lovano, Kris Funn, Dizzy Gillespie, Geoffrey Keezer, Nicholas Payton, Terence Blanchard, Diego Rivera, Betty Carter, Danilo Perez, John Scofield, Oregon, McCoy Tyner, Ameen Saleem, Bill Withers, Aretha Franklin, Mary J. Blige, Dr. Buzzard's Original Savannah Band.
Thanks for being part of #JazzChurch! We made a #JoyfulNoise! 🎶🎙🎵
Body and Soul – John Coltrane
Reflections – Joe Lovano
Thursday Night Prayer Meeting – Kris Funn
A Night In Tunisia – Dizzy Gillespie And The United Nations Orchestra
Refuge – Geoffrey Keezer
Back to the Source – Nicholas Payton
Footprints – Terence Blanchard
Rasquache – Diego Rivera
Close Your Eyes – Betty Carter
Sea Journey – Gary Burton, Pat Metheny, Steve Swallow & Antonio Sánchez
In Your Own Sweet Way – Kenny Drew Trio
Body And Soul – Danilo Perez
Alone Together – Cedar Walton, Ron Carter & Jack DeJohnette
Spiritual Ideation – Gary Bartz, Ali Shaheed Muhammad & Adrian Younge
Jazz Is Dead – Adrian Younge & Ali Shaheed Muhammad
Down Deep – Adrian Younge, Ali Shaheed Muhammad & Doug Carn
Down D – John Scofield
I'll Remember August – Oregon
New Orleans Stomp – McCoy Tyner
"A" Theme – Ameen Saleem
Lean on Me – Bill Withers
Spirit in the Dark – Aretha Franklin
Family Affair – Mary J. Blige
Sunshower – Dr. Buzzard's
Here Comes That Sound – Toris Badic & Love De-Luxe
---
Apple Music Playlist
Here's an Apple Music Playlist containing songs from this episode of #JazzChurch:
---
#JazzChurch Feedback and Suggestions
Rev. Bill E. Bob is looking for feedback on #JazzChurch! Please visit #JazzChurch Feedback if you have a moment and share your thoughts. Thanks!
---
Next week's #JazzChurch live stream can be found at postbop.com/jazzchurch, Streaming live from 1-4ish PM PST. Past episodes are available here as well.
Postbop.com: Livestream plus audio archives and information for all past shows
Twitch Livestream: 1-4pm-ish Pacific Time on Sundays
Soundcloud: Listen to past shows and subscribe to receive notifications, and listen to future shows