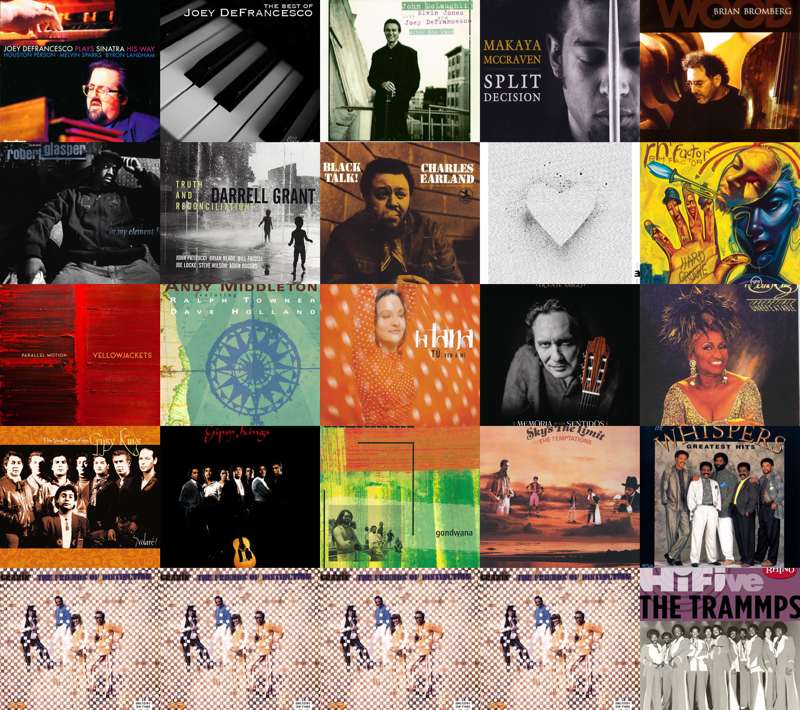 Today we listened to Joey DeFrancesco, John McLaughlin, Makaya McCraven, Charles Earland, Roy Hargrove, Yellowjackets, Andy Middleton, Celia Cruz, Gipsy Kings, The Temptations, The Friends of Distinction, The Trammps, and The Whispers.
Thanks for being part of #JazzChurch! We made a #JoyfulNoise! 🎶🎙🎵
Witchcraft – Joey DeFrancesco
Black Nile – Joey DeFrancesco
Take the Coltrane – Elvin Jones, Joey DeFrancesco & John McLaughlin
After the Rain – Elvin Jones, Joey DeFrancesco & John McLaughlin
Crescent – John McLaughlin
Zsiga – Makaya McCraven
The Saga Of Harrison Crabfeathers – Brian Bromberg
Y'outta Praise Him – Robert Glasper
Cross of Gold – Darrell Grant
More Today Than Yesterday – Charles Earland
Drawn Away – Ben Wendel
Hardgroove – Roy Hargrove
Challenging Times – Yellowjackets
I'll Remember August – Andy Middleton feat. Ralph Towner & Dave Holland
Tú, Ven a Mí – La Tana
Guadamecí – Vicente Amigo
Que Le Den Candela – Celia Cruz
Volare – Gipsy Kings
Bamboleo – Gipsy Kings
Dulce Amor – Gondwana
Just My Imagination (Running Away With Me) – The Temptations
I've Never Found a Girl (To Love Me Like You Do) – The Friends of Distinction
I Really Hope You Do – The Friends of Distinction
Sweet Young Thing Like You – The Friends of Distinction
Going In Circles – The Friends of Distinction
Lonesome Mood – The Friends of Distinction
Disco Inferno – The Trammps
And the Beat Goes On – The Whispers
---
Apple Music Playlist
Here's an Apple Music Playlist containing songs from this episode of #JazzChurch:
---
#JazzChurch Feedback and Suggestions
Rev. Bill E. Bob is looking for feedback on #JazzChurch! Please visit #JazzChurch Feedback if you have a moment and share your thoughts. Thanks!
---
Next week's #JazzChurch live stream can be found at postbop.com/jazzchurch, Streaming live from 1-4ish PM PST. Past episodes are available here as well.
Postbop.com: Livestream plus audio archives and information for all past shows
Twitch Livestream: 1-4pm-ish Pacific Time on Sundays
Soundcloud: Listen to past shows and subscribe to receive notifications, and listen to future shows