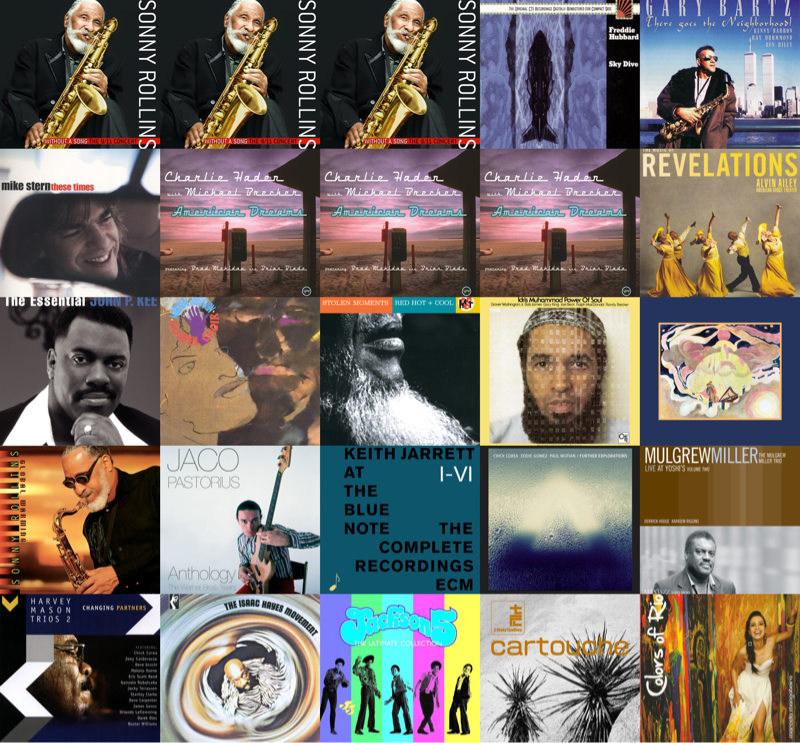 Today we listened to Sonny Rollins, Freddie Hubbard, Gary Bartz, Mike Stern, Charlie Haden, Alvin Ailey American Dance Theater, The New Life Community Choir, Montreal Jubilation Gospel Choir, Idris Muhammad, Keith Jarrett, Chick Corea, Mulgrew Miller, Isaac Hayes, and The Jackson 5.
Thanks for being part of #JazzChurch! We made a #JoyfulNoise! 🎶🎙🎵
Global Warming – Sonny Rollins
Introductions – Sonny Rollins
Where Or When – Sonny Rollins
Sky Dive – Freddie Hubbard
Flight Path – Gary Bartz
These Times – Mike Stern
American Dreams – Charlie Haden
Prism – Charlie Haden
America The Beautiful – Charlie Haden
I Wanna Be Ready – Alvin Ailey American Dance Theater
Standing In the Need – The New Life Community Choir
The Storm Is Passing Over – Montreal Jubilation Gospel Choir
Trouble Don't LastAlways – Incognito & Carleen Anderson With Ramsey Lewis
Piece of Mind – Idris Muhammad
Never Can Say Goodbye – Dezron Douglas & Brandee Younger
Clear Cut Boogie – Sonny Rollins
Happy Birthday – Jaco Pastorius
Close Your Eyes – Keith Jarrett
Very Early – Chick Corea
Joshua – Mulgrew Miller
Waltse For Dave – Chick Corea, Harvey Mason
I Just Don't Know What To Do With Myself – Isaac Hayes
Never Can Say Goodbye – The Jackson 5
Irreplaceable – The Funky Lowlives
September – Marcela Mangabeira
---
Apple Music Playlist
Here's an Apple Music Playlist containing songs from this episode of #JazzChurch:
---
#JazzChurch Feedback and Suggestions
Rev. Bill E. Bob is looking for feedback on #JazzChurch! Please visit #JazzChurch Feedback if you have a moment and share your thoughts. Thanks!
---
Next week's #JazzChurch live stream can be found at postbop.com/jazzchurch, Streaming live from 1-4ish PM PST. Past episodes are available here as well.
Postbop.com: Livestream plus audio archives and information for all past shows
Twitch Livestream: 1-4pm-ish Pacific Time on Sundays
Soundcloud: Listen to past shows and subscribe to receive notifications, and listen to future shows