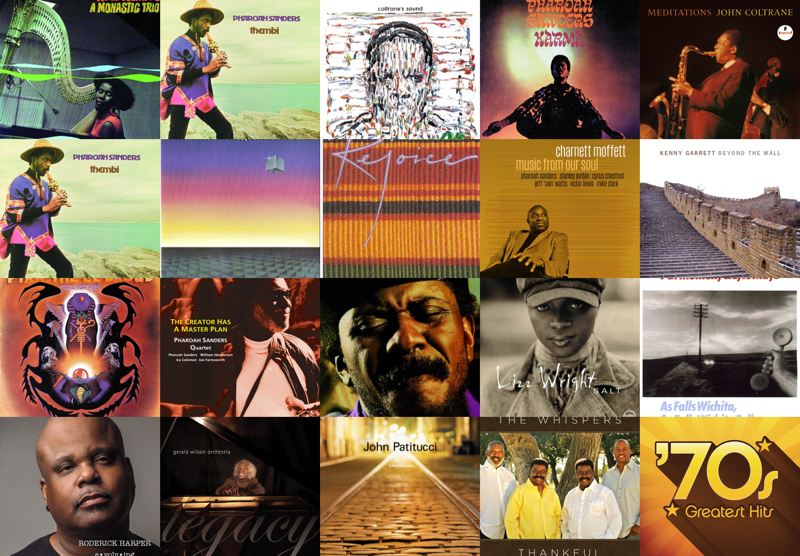 This Sunday, we honored the great jazz musician, composer, and saxophonist Pharoah Sanders, who passed away on Saturday. We listened to some of his music and songs he performed with Alice Coltrane, John Coltrane, Charnett Moffett, and Kenny Garrett. We also listened to Lizz Wright, Pat Metheny & Lyle Mays, Gerald Wilson, John Patitucci, The Whispers, and Earth, Wind & Fire.
Thanks for being part of #JazzChurch! We made a #JoyfulNoise! 🎶🎙🎵
Lord, Help Me to Be – Alice Coltrane
Astral Traveling – Pharoah Sanders
Equinox – John Coltrane
Creator Has A Master Plan, The - Part I – Pharoah Sanders
The Father and the Son and the Holy Ghost – John Coltrane
Thembi – Pharoah Sanders
Morning Prayer – Pharoah Sanders
Greetings to Idris – Pharoah Sanders
Central Park West – Pharoah Sanders
Music from Our Soul – Charnett Moffett
Beyond the Wall – Kenny Garrett
Mantra – Alice Coltrane
I Want to Talk About You – Pharoah Sanders Quartet
Love Is Everywhere – Pharoah Sanders
Walk with Me, Lord – Lizz Wright
September Fifteenth – Pat Metheny & Lyle Mays
In Summer (Estaté) – Roderick Harper
September Sky – Gerald Wilson Orchestra
Dry September – John Patitucci
Walk With Me – The Whispers
September – Earth, Wind & Fire
---
Apple Music Playlist
Here's an Apple Music Playlist containing songs from this episode of #JazzChurch:
---
#JazzChurch Feedback and Suggestions
Rev. Bill E. Bob is looking for feedback on #JazzChurch! Please visit #JazzChurch Feedback if you have a moment and share your thoughts. Thanks!
---
Next week's #JazzChurch live stream can be found at postbop.com/jazzchurch, Streaming live from 1-4ish PM PST. Past episodes are available here as well.
Postbop.com: Livestream plus audio archives and information for all past shows
Twitch Livestream: 1-4pm-ish Pacific Time on Sundays
Soundcloud: Listen to past shows and subscribe to receive notifications, and listen to future shows