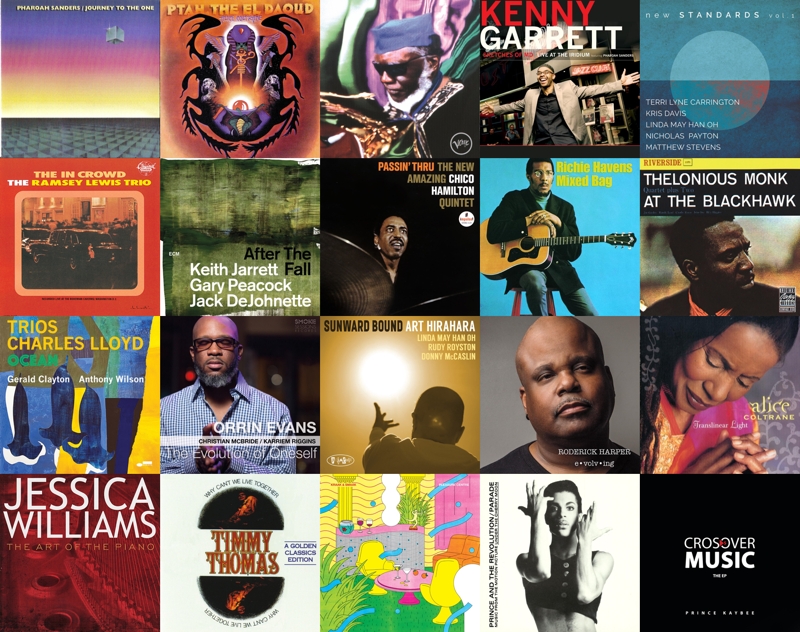 In this episode, we listened to Pharoah Sanders, Alice Coltrane, Terri Lyne Carrington, Chico Hamilton Quintet, Richie Havens, Charles Lloyd, Art Hirahara, Roderick Harper, Jessica Williams, Kate McGarry, Timmy Thomas, Kraak & Smaak, Prince, and Prince Kaybee.
Thanks for being part of #JazzChurch! We made a #JoyfulNoise! 🎶🎙🎵
Yemenja – Pharoah Sanders
Ptah, The El Daoud – Alice Coltrane
Our Roots (Began In Africa) – Pharoah Sanders
The Ring – Kenny Garrett
Throw It Away – Terri Lyne Carrington, Melanie Charles, Somi & Nêgah Santos
Theme from Spartacus – Ramsey Lewis Trio
One for Majid – Keith Jarrett, Gary Peacock & Jack DeJohnette
Unchanged – Terri Lyne Carrington
Lady Gabor – Chico Hamilton Quintet
San Francisco Bay Blues – Richie Havens
San Francisco Holiday (Worry Later) – Thelonious Monk Quartet
Jaramillo Blues (For Virginia and Danny) – Charles Lloyd
Autumn Leaves – Orrin Evans
Autumn In New York – Tom Harrell
Ringo Oiwake – Art Hirahara
Someday We'll All Be Free – Roderick Harper
Walk With Me – Alice Coltrane
First Gymnopédie – Jessica Williams
Mercy Street – Kate McGarry
Why Can't We Live Together – Timmy Thomas
Don't Want This to Be Over – Kraak & Smaak
Kiss – Prince
Ndimlo – Prince Kaybee
---
Apple Music Playlist
Here's an Apple Music Playlist containing songs from this episode of #JazzChurch:
---
#JazzChurch Feedback and Suggestions
Rev. Bill E. Bob is looking for feedback on #JazzChurch! Please visit #JazzChurch Feedback if you have a moment and share your thoughts. Thanks!
---
Next week's #JazzChurch live stream can be found at postbop.com/jazzchurch, Streaming live from 1-4ish PM PST. Past episodes are available here as well.
Postbop.com: Livestream plus audio archives and information for all past shows
Twitch Livestream: 1-4pm-ish Pacific Time on Sundays
Soundcloud: Listen to past shows and subscribe to receive notifications, and listen to future shows