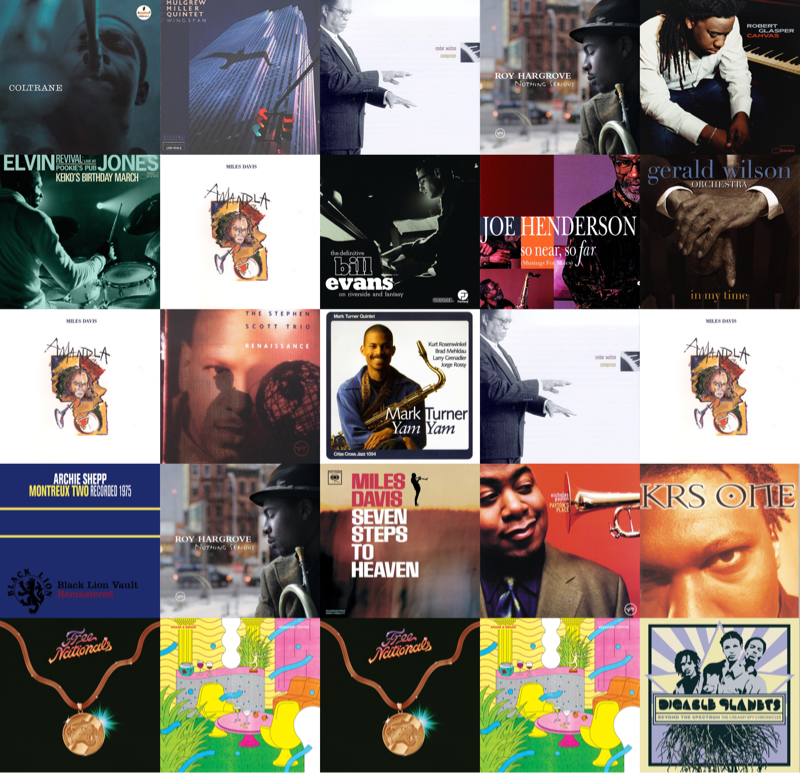 In this episode, we listened to John Coltrane, Miles Davis, Gerald Wilson, Archie Shepp, Joe Henderson, Mulgrew Miller, Elvin Jones, Bill Evans, Cedar Walton, Roy Hargrove, Robert Glasper, Stephen Scott, Mark Turner, Nicholas Payton, KRS-One, Free Nationals, Kraak & Smaak, and Digable Planets.
Thanks for being part of #JazzChurch! We made a #JoyfulNoise! 🎶🎙🎵
Tunji – John Coltrane
Soul-Leo – Mulgrew Miller
Martha's Prize – Cedar Walton
Invitation – Roy Hargrove
Rise and Shine – Robert Glasper
Keiko's Birthday March – Elvin Jones
Hannibal – Miles Davis
On Green Dolphin Street – Bill Evans
So Near, So Far – Joe Henderson
So What – Gerald Wilson
Amandla – Miles Davis
Solitude – Stephen Scott
Moment's Notice – Mark Turner
Minor Controversy – Cedar Walton
Mr. Pastorius – Miles Davis
Blues For Donald Duck – Archie Shepp
Book's Bossa – Roy Hargrove
Seven Steps To Heaven – Miles Davis
People Make the World Go Round – Nicholas Payton
MC's Act Like They Don't Know – KRS-One
Obituaries – Free Nationals
Sommeron – Kraak & Smaak
Time – Free Nationals, Mac Miller & Kali Uchis
24HR Fling – Kraak & Smaak
Rebirth of Slick (Cool Like Dat) – Digable Planets
---
Apple Music Playlist
Here's an Apple Music Playlist containing songs from this episode of #JazzChurch:
---
#JazzChurch Feedback and Suggestions
Rev. Bill E. Bob is looking for feedback on #JazzChurch! Please visit #JazzChurch Feedback if you have a moment and share your thoughts. Thanks!
---
Next week's #JazzChurch live stream can be found at postbop.com/jazzchurch, Streaming live from 1-4ish PM PST. Past episodes are available here as well.
Postbop.com: Livestream plus audio archives and information for all past shows
Twitch Livestream: 1-4pm-ish Pacific Time on Sundays
Soundcloud: Listen to past shows and subscribe to receive notifications, and listen to future shows