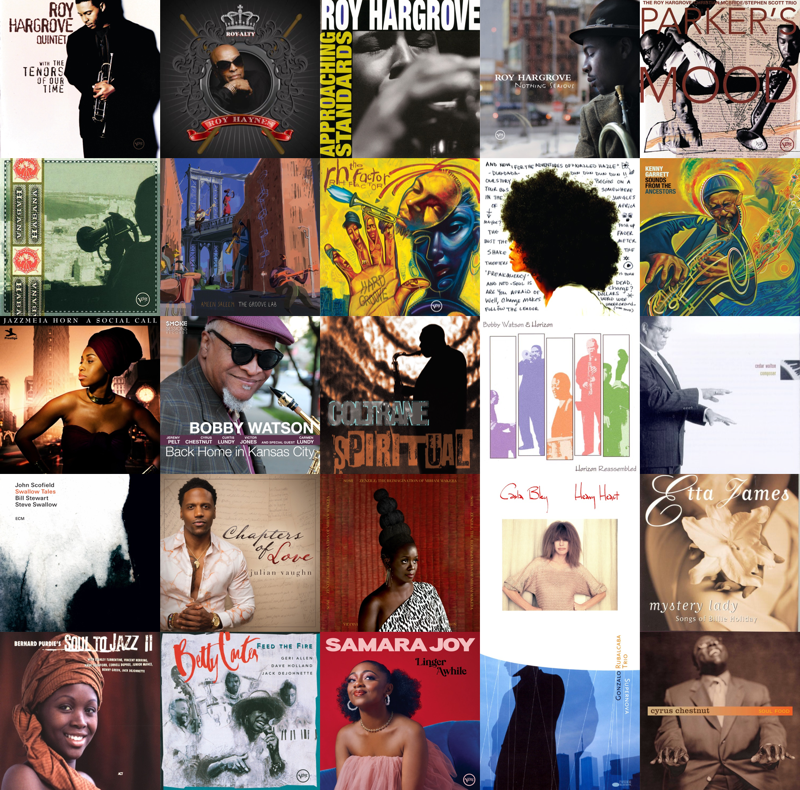 In this episode, we honored Roy Hargrove on his birthday and listened to Ameen Saleem, Erykah Badu, Kenny Garrett, Jazzmeia Horn, Bobby Watson, John Coltrane Quartet, Cedar Walton, Carla Bley, Etta James, Betty Carter, Samara Joy, Gonzalo Rubalcaba, and Cyrus Chestnut.
Thanks for being part of #JazzChurch! We made a #JoyfulNoise! 🎶🎙🎵
A Shade Of Jade – Roy Hargrove Quintet
Passion Dance – Roy Haynes
My Shining Hour – Roy Hargrove Quintet
Book's Bossa – Roy Hargrove
Dexterity – Christian McBride, Roy Hargrove & Stephen Scott
Roy Hargrove Quintet 'Top Of My Head' Live Studio Session – KNKX Public Radio
O My Seh Yeh – Roy Hargrove
Possibilities – Ameen Saleem
How I Know – Roy Hargrove
Think Twice – Erykah Badu featuring Roy Hargrove
Hargrove – Kenny Garrett
Up Above My Head – Jazzmeia Horn
Dear Lord – Bobby Watson
Spiritual (Live at Village Vanguard 1961) – John Coltrane Quartet
Ginger Bread Boy – Bobby Watson
Theme For Jobim – Cedar Walton
Eiderdown – John Scofield, Steve Swallow & Bill Stewart
Sway – Julian Vaughn
Nonqonqo – Somi
Talking Hearts – Carla Bley
Lover Man (Oh Where Can You Be) – Etta James
Joshua – Bernard Purdie
Lover Man – Betty Carter
Someone To Watch Over Me – Samara Joy
Oren (Pray) – Gonzalo Rubalcaba
House of the Rising Sun – Somi
Soul Food – Cyrus Chestnut
---
Apple Music Playlist
Here's an Apple Music Playlist containing songs from this episode of #JazzChurch:
---
#JazzChurch Feedback and Suggestions
Rev. Bill E. Bob is looking for feedback on #JazzChurch! Please visit #JazzChurch Feedback if you have a moment and share your thoughts. Thanks!
---
Next week's #JazzChurch live stream can be found at postbop.com/jazzchurch, Streaming live from 1-4ish PM PST. Past episodes are available here as well.
Postbop.com: Livestream plus audio archives and information for all past shows
Twitch Livestream: 1-4pm-ish Pacific Time on Sundays
Soundcloud: Listen to past shows and subscribe to receive notifications, and listen to future shows