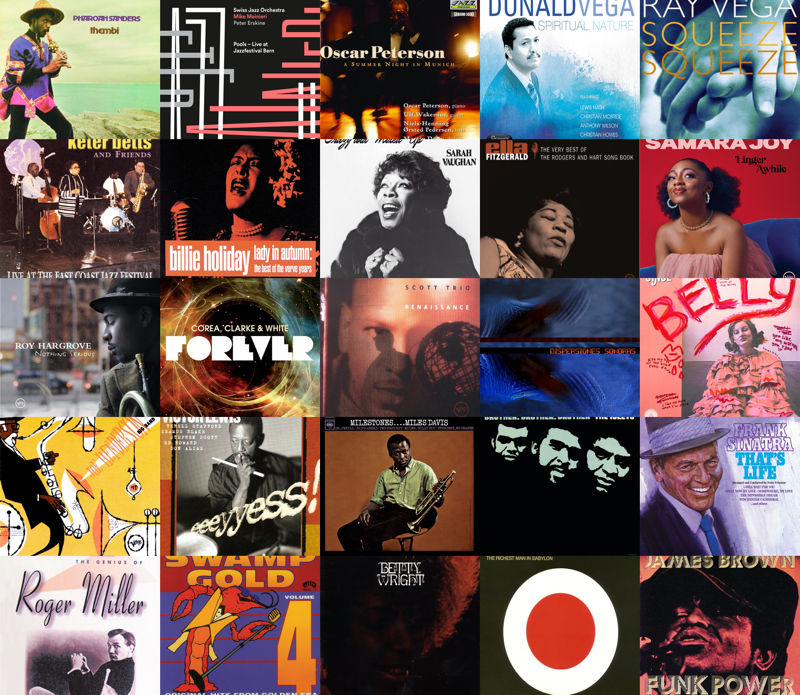 Today we listened to Pharoah Sanders, Donald Vega, Ray Vega, Keter Betts, Billie Holiday, Sarah Vaughan, Ella Fitzgerald, Samara Joy, Roy Hargrove, Buster Williams, Joe Henderson, Hugh Masekela, Victor Lewis, The Isley Brothers, Frank Sinatra, Roger Miller, Betty Wright, and James Brown.
Thanks for being part of #JazzChurch! We made a #JoyfulNoise! 🎶🎙🎵
Love – Pharoah Sanders
Morning Prayer – Pharoah Sanders
Liberty City – Swiss Jazz Orchestra
Nigerian Marketplace – Oscar Peterson
Contemplation – Donald Vega
Contemplation – Ray Vega
Spur of the Moment – Keter Betts
Do Nothin' Till You Hear From Me – Billie Holiday
I Didn't Know What Time It Was – Sarah Vaughan
I Could Write a Book – Ella Fitzgerald
'Round Midnight – Samara Joy
Nothing Serious – Roy Hargrove
I Didn't Know What Time It Was – Billie Holiday
I Didn't Know What Time It Was – Buster Williams
Renaissance – Corea, Clarke & White
Maiden Voyage – Stephen Scott
Del Mar Hasta la Cordillera – Dispersiones Sonoras
Stranger – Ginge
Black Narcissus – Joe Henderson
If There's Anybody Out There – Hugh Masekela
Vulnerability – Victor Lewis
Milestones (Alternate Take) – Miles Davis
Work to Do – The Isley Brothers
That's Life – Frank Sinatra
King Of The Road – Roger Miller
Nobody but You – Lil' Bob & the Lollipops
Clean Up Woman – Betty Wright
From Creation – Thievery Corporation
Soul Power – James Brown
---
Apple Music Playlist
Here's an Apple Music Playlist containing songs from this episode of #JazzChurch:
---
#JazzChurch Feedback and Suggestions
Rev. Bill E. Bob is looking for feedback on #JazzChurch! Please visit #JazzChurch Feedback if you have a moment and share your thoughts. Thanks!
---
Next week's #JazzChurch live stream can be found at postbop.com/jazzchurch, Streaming live from 1-4ish PM PST. Past episodes are available here as well.
Postbop.com: Livestream plus audio archives and information for all past shows
Twitch Livestream: 1-4pm-ish Pacific Time on Sundays
Soundcloud: Listen to past shows and subscribe to receive notifications, and listen to future shows