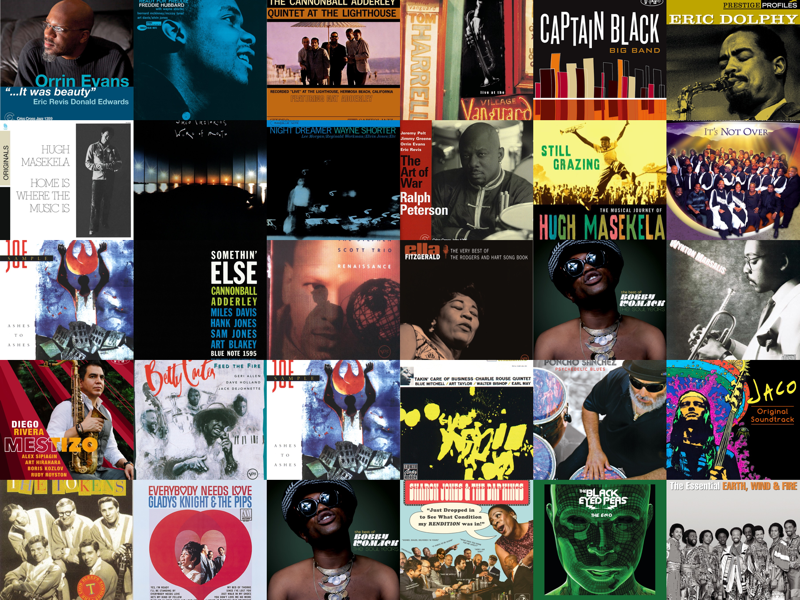 Today we listened to Orrin Evans, Freddie Hubbard, Cannonball Adderley Quintet, Tom Harrell, Orrin Evans, Eric Dolphy, Hugh Masekela, Jaco Pastorius, Wayne Shorter, Ralph Peterson, Betty Carter, The Tokens, Sharon Jones & The Dap-Kings, and the Black Eyed Peas.
Thanks for being part of #JazzChurch! We made a #JoyfulNoise! 🎶🎙🎵
Blues Connotation – Orrin Evans
Birdlike – Freddie Hubbard
Sack O' Woe – Cannonball Adderley Quintet
Where the Rain Begins – Tom Harrell
Easy Now – Orrin Evans
Out There – Eric Dolphy
Inner Crisis – Hugh Masekela
Crisis – Jaco Pastorius
Armageddon – Wayne Shorter
The Art of War – Ralph Peterson
Mace & Grenades – Hugh Masekela
I Will Love Thee – Wilmington Chester Mass Choir
Ashes to Ashes – Joe Sample
Autumn Leaves – Cannonball Adderley
Renaissance Suite: 4. With The Least Bit Of Hope – Stephen Scott
Where Or When – Ella Fitzgerald
I Left My Heart In San Francisco – Bobby Womack
Father Time – Wynton Marsalis
Rasquache – Diego Rivera
All Or Nothing At All – Betty Carter
The Road Less Traveled – Joe Sample
Weirdo – Charlie Rouse
Silver's Seranade – Poncho Sanchez
Continuum – Jaco Pastorius
The Lion Sleeps Tonight – The Tokens
I Heard It Through the Grapevine – Gladys Knight & The Pips
Across 110th Street – Bobby Womack
Just Dropped In (To See What Condition My Condition Was In) – Sharon Jones & The Dap-Kings
I Gotta Feeling – Black Eyed Peas
September – Earth, Wind & Fire
---
Apple Music Playlist
Here's an Apple Music Playlist containing songs from this episode of #JazzChurch:
---
#JazzChurch Feedback and Suggestions
Rev. Bill E. Bob is looking for feedback on #JazzChurch! Please visit #JazzChurch Feedback if you have a moment and share your thoughts. Thanks!
---
Next week's #JazzChurch live stream can be found at postbop.com/jazzchurch, Streaming live from 1-4ish PM PST. Past episodes are available here as well.
Postbop.com: Livestream plus audio archives and information for all past shows
Twitch Livestream: 1-4pm-ish Pacific Time on Sundays
Soundcloud: Listen to past shows and subscribe to receive notifications, and listen to future shows