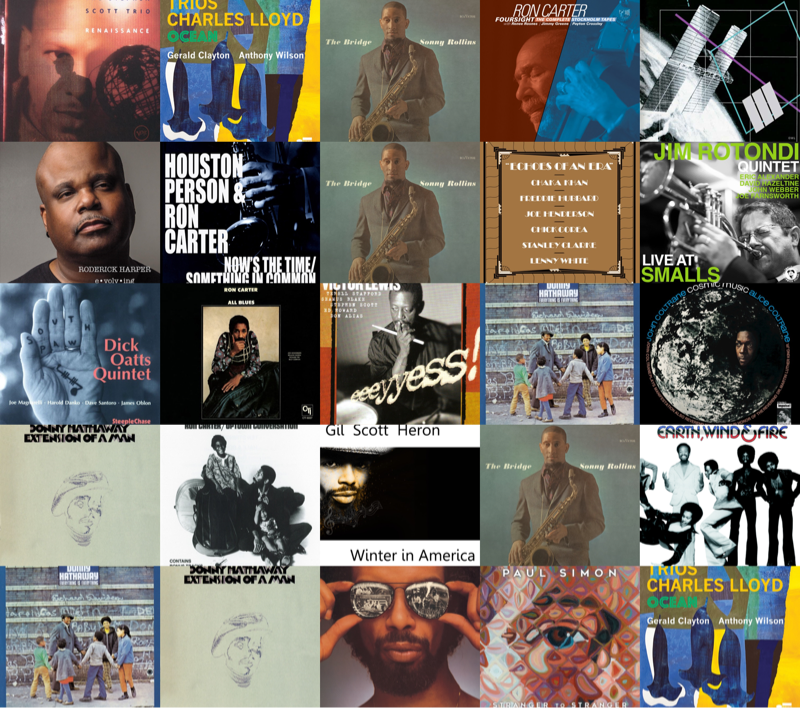 Today we listened to Stephen Scott, Charles Lloyd, Sonny Rollins, Steve Kuhn, Roderick Harper, Ron Carter & Houston Person, Jim Rotondi, Dick Oatts, Victor Lewis, Donny Hathaway, Alice Coltrane, Gil Scott-Heron, Earth, Wind & Fire, and Paul Simon.
Thanks for being part of #JazzChurch! We made a #JoyfulNoise! 🎶🎙🎵
Renaissance Suite: 3. The Revolution – Stephen Scott
Kuan Yin – Charles Lloyd
Without A Song – Sonny Rollins
Seven Steps to Heaven – Ron Carter
In Your Own Sweet Way – Steve Kuhn
Rubicon Song – Roderick Harper
Bemsha Swing – Ron Carter & Houston Person
John S. – Sonny Rollins
I Hear Music – Chaka Khan, Stanley Clarke, Chick Corea, Joe Henderson, Freddie Hubbard & Lenny White
A Higher Calling – Jim Rotondi, David Hazeltine, Eric Alexander, Joe Farnsworth & John Webber
What's new – Dick Oatts
117 Special – Ron Carter
Alter Ego – Victor Lewis
Voice Inside (Everything Is Everything) – Donny Hathaway
Lord Help Me to Be – Alice Coltrane
Lord Help Me – Donny Hathaway
Doom – Ron Carter
Winter In America - Single – Gil Scott-Heron
God Bless The Child – Sonny Rollins
That's the Way of the World – Earth, Wind & Fire
The Ghetto – Donny Hathaway
Someday We'll All Be Free – Donny Hathaway
Is That Jazz? – Gil Scott-Heron
Wristband – Paul Simon
Jaramillo Blues (For Virginia and Danny) – Charles Lloyd
---
Apple Music Playlist
Here's an Apple Music Playlist containing songs from this episode of #JazzChurch:
---
#JazzChurch Feedback and Suggestions
Rev. Bill E. Bob is looking for feedback on #JazzChurch! Please visit #JazzChurch Feedback if you have a moment and share your thoughts. Thanks!
---
Next week's #JazzChurch live stream can be found at postbop.com/jazzchurch, Streaming live from 1-4ish PM PST. Past episodes are available here as well.
Postbop.com: Livestream plus audio archives and information for all past shows
Twitch Livestream: 1-4pm-ish Pacific Time on Sundays
Soundcloud: Listen to past shows and subscribe to receive notifications, and listen to future shows