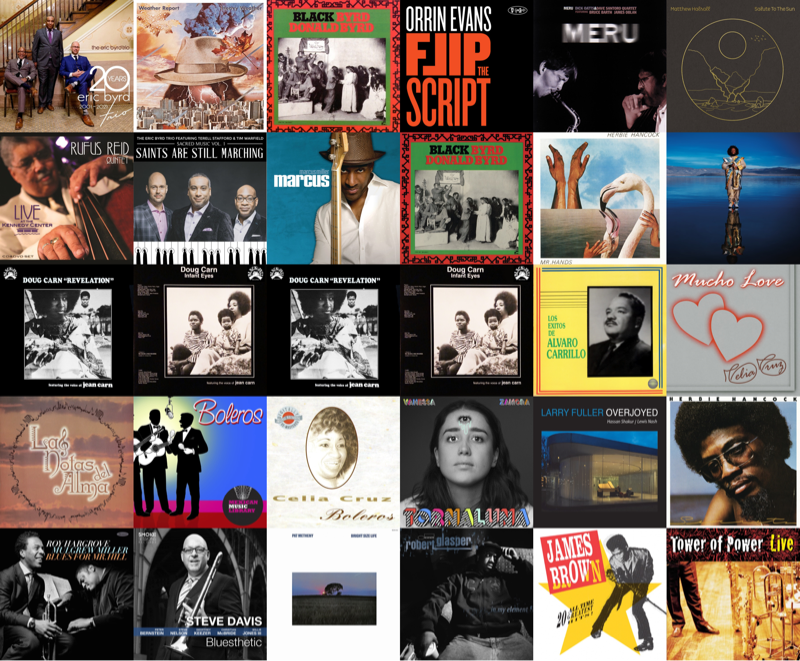 Today we listened to The Eric Byrd Trio, Weather Report, Donald Byrd, Orrin Evans, Marcus Miller, Herbie Hancock, Kamasi Washington, Doug Carn, Celia Cruz, Vanessa Zamora, Roy Hargrove & Mulgrew Miller, Steve Davis, Pat Metheny, Robert Glasper, James Brown, and Tower Of Power.
Thanks for being part of #JazzChurch! We made a #JoyfulNoise! 🎶🎙🎵
Sunday Mo'nin Chu'ch – The Eric Byrd Trio
Havona – Weather Report
Mr. Thomas – Donald Byrd
The Answer – Orrin Evans
South Paw – Dick Oatts & Dave Santoro Quartet
The Energy of Life – Matthew Halsall
Dreamgliding – Rufus Reid Quintet
I Want Jesus to Walk with Me – The Eric Byrd Trio
Blast – Marcus Miller
Where Are We Going? – Donald Byrd
4 A.M. – Herbie Hancock
Connections – Kamasi Washington
Revelation – Doug Carn
Infant Eyes – Doug Carn
Contemplation – Doug Carn
Jihad – Doug Carn
Little B's Poem – Doug Carn
La Mentira – Alvaro Carrillo
Cuando Estoy Contigo – Celia Cruz
Hola Soledad – Las Notas del Alma
Querida Amiga – Mexican Music Factory
Quizás, Quizás, Quizás – Celia Cruz
Malas Amistades – Vanessa Zamora
Jane's Theme – Larry Fuller, Hassan Shakur & Lewis Nash
Gentle Thoughts – Herbie Hancock
Blues for Mr. Hill – Roy Hargrove & Mulgrew Miller
Encouragement – Steve Davis
Midwestern Nights Dream – Pat Metheny
F.T.B. – Robert Glasper
Get On The Good Foot – James Brown
What Is Hip? – Tower Of Power
---
Apple Music Playlist
Here's an Apple Music Playlist containing songs from this episode of #JazzChurch:
---
#JazzChurch Feedback and Suggestions
Rev. Bill E. Bob is looking for feedback on #JazzChurch! Please visit #JazzChurch Feedback if you have a moment and share your thoughts. Thanks!
---
Next week's #JazzChurch live stream can be found at postbop.com/jazzchurch, Streaming live from 1-4ish PM PST. Past episodes are available here as well.
Postbop.com: Livestream plus audio archives and information for all past shows
Twitch Livestream: 1-4pm-ish Pacific Time on Sundays
Soundcloud: Listen to past shows and subscribe to receive notifications, and listen to future shows