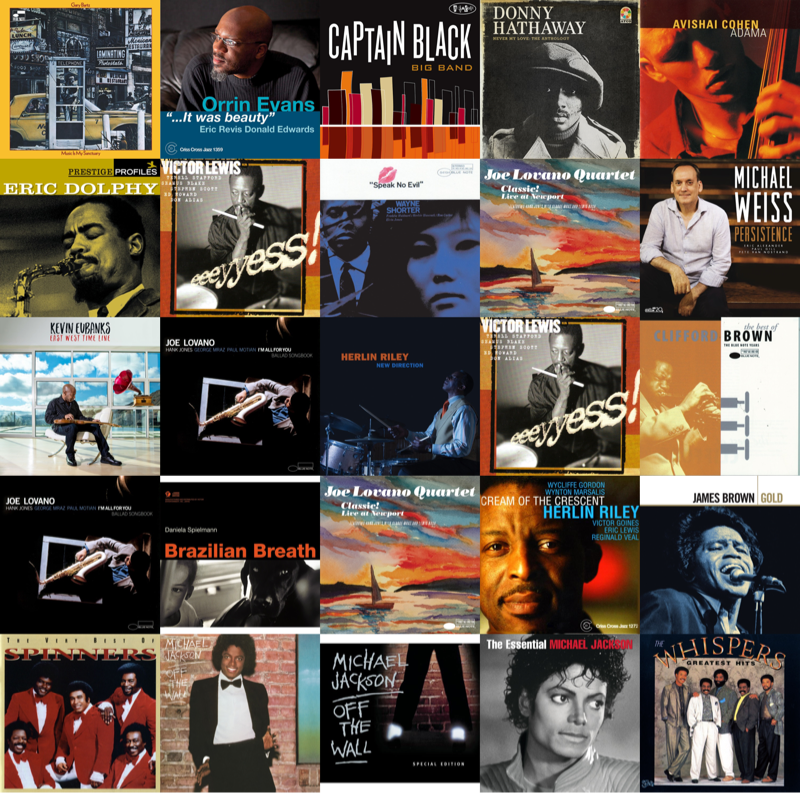 Today we listened to Gary Bartz, Orrin Evans, Donny Hathaway, Avishai Cohen, Eric Dolphy, Victor Lewis, Wayne Shorter, Joe Lovano, Michael Weiss, Kevin Eubanks, Herlin Riley, Clifford Brown, James Brown, The Spinners, Michael Jackson, and The Whispers.
Thanks for being part of #JazzChurch! We made a #JoyfulNoise! 🎶🎙🎵
Music Is My Sanctuary – Gary Bartz
Blues Connotation – Orrin Evans
Easy Now – Orrin Evans
Sack Full of Dreams – Donny Hathaway
Bass Suite, No. 1 – Avishai Cohen
On Green Dolphin Street – Eric Dolphy Quintet
Eeeyyess! – Victor Lewis
Infant Eyes – Wayne Shorter
Six and Four – Joe Lovano Quartet
Jitterbug Waltz – Michael Weiss
What's Going On – Kevin Eubanks
I Waited For You – Joe Lovano
New Direction – Herlin Riley
Vulnerability – Victor Lewis
Joy Spring – Clifford Brown
Monk's Mood – Joe Lovano
Isto Aqui O Que E – Daniela Spielmann
I'm All For You – Joe Lovano Quartet
Bird Life – Herlin Riley
Papa's Got a Brand New Bag – James Brown
Working My Way Back to You – The Spinners
Don't Stop 'Til You Get Enough – Michael Jackson
Rock With You – Michael Jackson
Off The Wall – Michael Jackson
And the Beat Goes On – The Whispers
---
Apple Music Playlist
Here's an Apple Music Playlist containing songs from this episode of #JazzChurch:
---
#JazzChurch Feedback and Suggestions
Rev. Bill E. Bob is looking for feedback on #JazzChurch! Please visit #JazzChurch Feedback if you have a moment and share your thoughts. Thanks!
---
Next week's #JazzChurch live stream can be found at postbop.com/jazzchurch, Streaming live from 1-4ish PM PST. Past episodes are available here as well.
Postbop.com: Livestream plus audio archives and information for all past shows
Twitch Livestream: 1-4pm-ish Pacific Time on Sundays
Soundcloud: Listen to past shows and subscribe to receive notifications, and listen to future shows