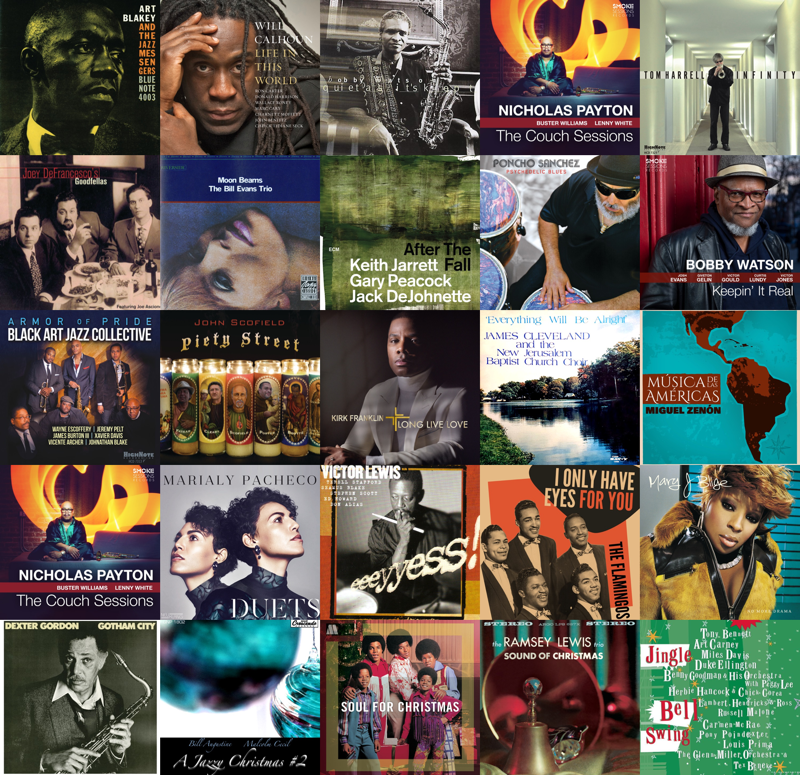 Today we listened to music by Art Blakey, Bobby Watson, Nicholas Payton, Poncho Sanchez, Kirk Franklin, Rev. James Cleveland, Miguel Zenón, The Flamingos, Mary J. Blige, Dexter Gordon, Sounds of Blackness, Ramsey Lewis Trio, Herbie Hancock.
Thanks for being part of #JazzChurch! We made a #JoyfulNoise! 🎶🎙🎵
Moanin' – Art Blakey & The Jazz Messengers
King Tut Strut – Will Calhoun
Nubian Breakdown – Bobby Watson
Feed the Fire – Nicholas Payton
Folk Song – Tom Harrell
Speak Softly Love – Joey DeFrancesco
Re: Person I Knew – Bill Evans Trio
One for Majid – Keith Jarrett Trio
Silver's Seranade – Poncho Sanchez
Flamenco Sketches – Bobby Watson
Armor of Pride – Black Art Jazz Collective
Something's Got a Hold On Me – John Scofield
Love Theory – Kirk Franklin
I Don't Feel Noways Tired – Rev. James Cleveland
Tainos y Caribes – Miguel Zenón
Pinocchio – Nicholas Payton
La Comparsa – Marialy Pacheco & Miguel Zenón
Stamina – Victor Lewis
Opresión y Revolución – Miguel Zenón
I Only Have Eyes for You – The Flamingos
Family Affair – Mary J. Blige
Have Yourself a Merry Little Christmas – Dexter Gordon
We Three Kings – Bill Augustine & Malcolm Cecil
Soul Holidays – Sounds of Blackness
Here Comes Santa Claus – Ramsey Lewis Trio
Deck the Halls – Herbie Hancock
You can find next week's #JazzChurch live stream at postbop.com/jazzchurch. We'll be streaming live next Sunday from 1 to about 4 PM PST. You can find past episodes on this page as well
---
Apple Music Playlist
Here's an Apple Music Playlist containing songs from this episode of #JazzChurch:
---
#JazzChurch Feedback and Suggestions
Rev. Bill E. Bob is looking for feedback on #JazzChurch! Please visit #JazzChurch Feedback if you have a moment and share your thoughts. Thanks!
---
Next week's #JazzChurch live stream can be found at postbop.com/jazzchurch, Streaming live from 1-4ish PM PST. Past episodes are available here as well.
Postbop.com: Livestream plus audio archives and information for all past shows
Twitch Livestream: 1-4pm-ish Pacific Time on Sundays
Soundcloud: Listen to past shows and subscribe to receive notifications, and listen to future shows