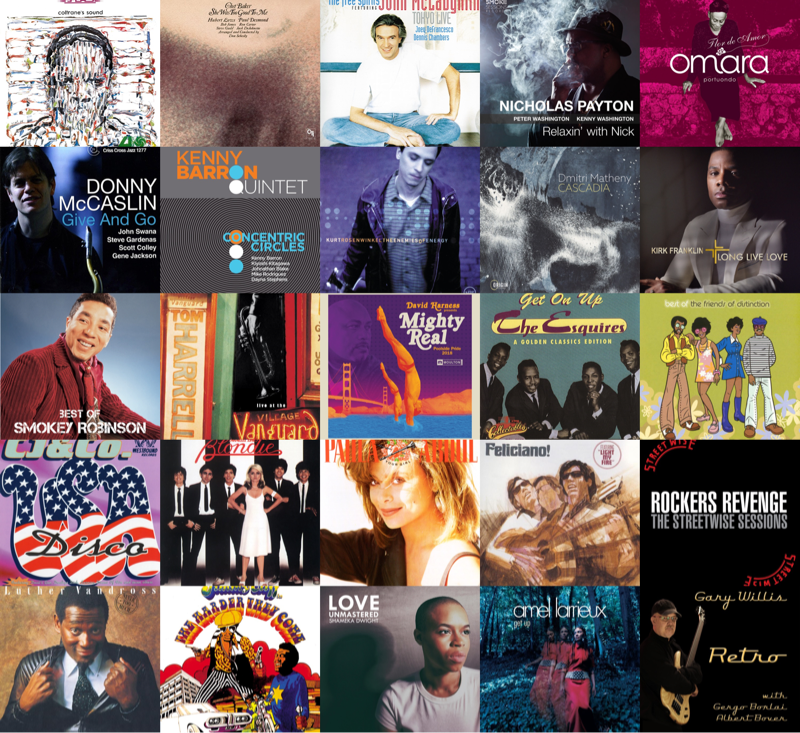 Today we listened to music by John Coltrane, Chet Baker, John McLaughlin, Nicholas Payton, Omara Portuondo, Donny McCaslin, Kenny Barron, Kirk Franklin, Smokey Robinson & The Miracles, Lady Alma & The Rainmakers, The Esquires, The Friends of Distinction, José Feliciano, Luther Vandross, and Jimmy Cliff.
Thanks for being part of #JazzChurch! We made a #JoyfulNoise! 🎶🎙🎵
Equinox – John Coltrane
26-2 – John Coltrane
Autumn Leaves – Chet Baker
Little Miss Valley – John McLaughlin
Jazz is a Four-Letter Word – Nicholas Payton
Juramento – Omara Portuondo
Drift – Donny McCaslin
Aquele Frevo Axé – The Kenny Barron Quintet
Christmas Song – Kurt Rosenwinkel
Evergreen Girl – Dmitri Matheny
Love Theory – Kirk Franklin
Where the Rain Begins – Tom Harrell
Lady Alma Let it Rain – In Loving Memory of My Little Brother GG
Get On Up – The Esquires
Going To a Go-Go – Smokey Robinson & The Miracles
Shop Around – The Miracles
Grazing In the Grass – The Friends of Distinction
Devil's Gun – C.J. & Co.
Heart of Glass – Blondie
Straight Up – Paula Abdul
Light My Fire – José Feliciano
Walking On Sunshine '82 – Rockers Revenge
Never Too Much – Luther Vandross
You Can Get It If You Really Want – Jimmy Cliff
Lonesome Mood – The Friends of Distinction
Higher Ground – Shameka Dwight
Get Up – Amel Larrieux
A House Is Not A Home – Luther Vandross
Change Agent – Gary Willis
You can find next week's #JazzChurch live stream at postbop.com/jazzchurch. We'll be streaming live next Sunday from 1 to about 4 PM PST. You can find past episodes on this page as well
---
Apple Music Playlist
Here's an Apple Music Playlist containing songs from this episode of #JazzChurch:
---
#JazzChurch Feedback and Suggestions
Rev. Bill E. Bob is looking for feedback on #JazzChurch! Please visit #JazzChurch Feedback if you have a moment and share your thoughts. Thanks!
---
Next week's #JazzChurch live stream can be found at postbop.com/jazzchurch, Streaming live from 1-4ish PM PST. Past episodes are available here as well.
Postbop.com: Livestream plus audio archives and information for all past shows
Twitch Livestream: 1-4pm-ish Pacific Time on Sundays
Soundcloud: Listen to past shows and subscribe to receive notifications, and listen to future shows