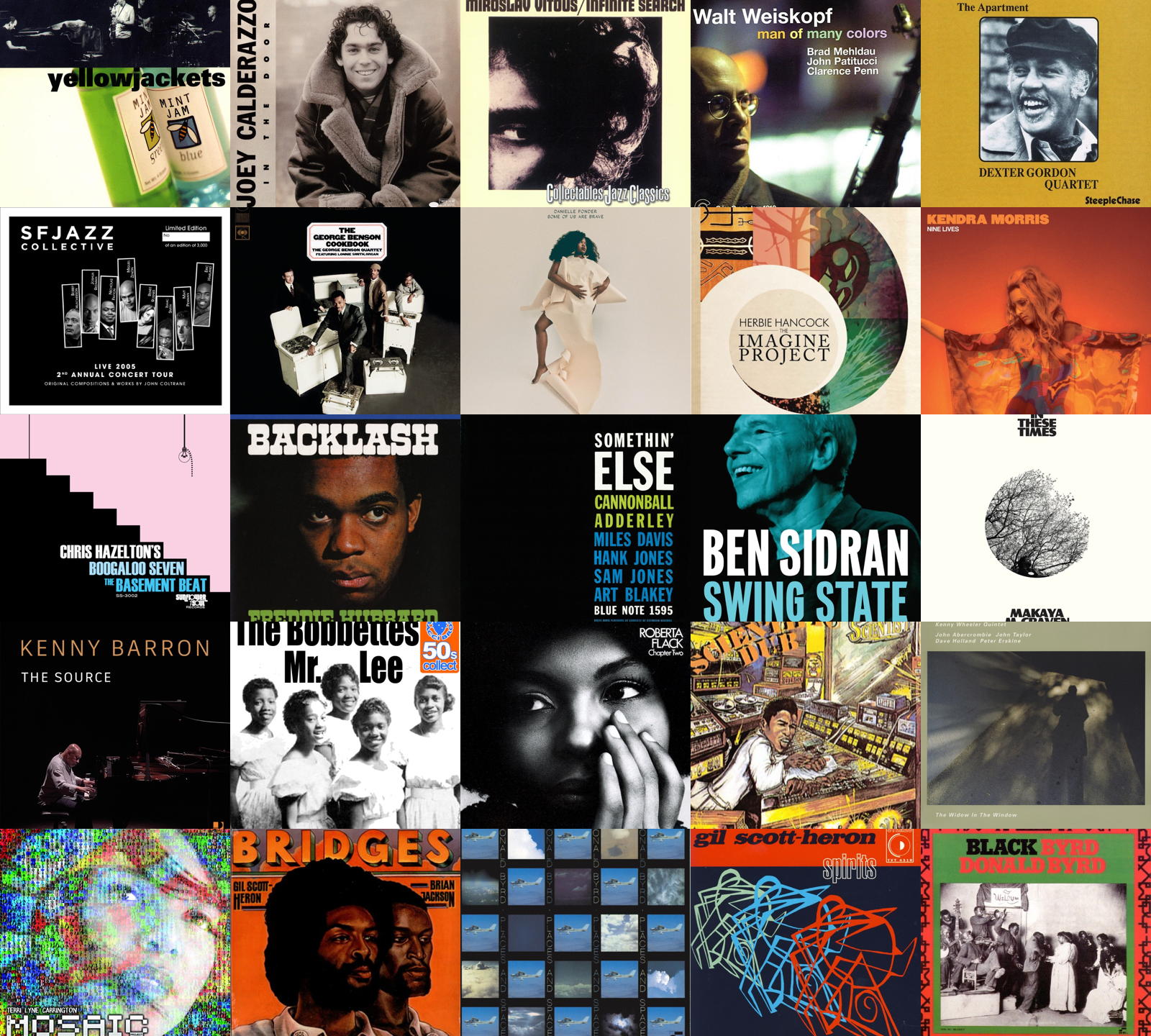 Today we listened to music by the Yellowjackets, Joey Calderazzo, Miroslav Vitous, Walt Weiskopf, Al Newman, Dexter Gordon, SFJAZZ Collective, George Benson, Danielle Ponder, Ben Sidran, Grace Kelly, Makaya McCraven, Kenny Barron, The Bobbettes, Roberta Flack, Kenny Wheeler, Terri Lyne Carrington, Donald Byrd, and Gil Scott-Heron.
Thanks for being part of #JazzChurch! We made a #JoyfulNoise! 🎶🎙🎵
Tortoise and the Hare – The Yellowjackets
Mikell's – Joey Calderazzo
Freedom Jazz Dance – Miroslav Vitous
Haunted Heart – Walt Weiskopf, Brad Mehldau, John Patitucci & Clarence Penn
Stepdown – Al Newman
Stablemates – Dexter Gordon
Development – Sfjazz Collective
The Borgia Stick – George Benson
Some Of Us Are Brave – Danielle Ponder
A Change Is Gonna Come – Herbie Hancock & James Morrison
This Life – Kendra Morris
100 Days, 100 Nights – Chris Hazelton's Boogaloo 7
Backlash – Freddie Hubbard
One For Daddy-O – Cannonball Adderley
Laura – Ben Sidran
Trying to Figure It Out – Grace Kelly
Lullaby – Makaya McCraven
What If – Kenny Barron
Mr. Lee – The Bobbettes
Reverend Lee – Roberta Flack
Drum Song Dub – Scientist
Hotel Le Hot – Kenny Wheeler
Transformation – Terri Lyne Carrington
Vildgolia (Deaf, Dumb & Blind) – Gil Scott-Heron & Brian Jackson
Change (Makes You Want to Hustle) – Donald Byrd
The Other Side, Part I – Gil Scott-Heron
The Other Side, Part II – Gil Scott-Heron
The Other Side, Part III – Gil Scott-Heron
Mr. Thomas – Donald Byrd
You can find next week's #JazzChurch live stream at postbop.com/jazzchurch. We'll be streaming live next Sunday from 1 to about 4 PM PST. You can find past episodes on this page as well
---
Apple Music Playlist
Here's an Apple Music Playlist containing songs from this episode of #JazzChurch:
---
#JazzChurch Feedback and Suggestions
Rev. Bill E. Bob is looking for feedback on #JazzChurch! Please visit #JazzChurch Feedback if you have a moment and share your thoughts. Thanks!
---
Next week's #JazzChurch live stream can be found at postbop.com/jazzchurch, Streaming live from 1-4ish PM PST. Past episodes are available here as well.
Postbop.com: Livestream plus audio archives and information for all past shows
Twitch Livestream: 1-4pm-ish Pacific Time on Sundays
Soundcloud: Listen to past shows and subscribe to receive notifications, and listen to future shows