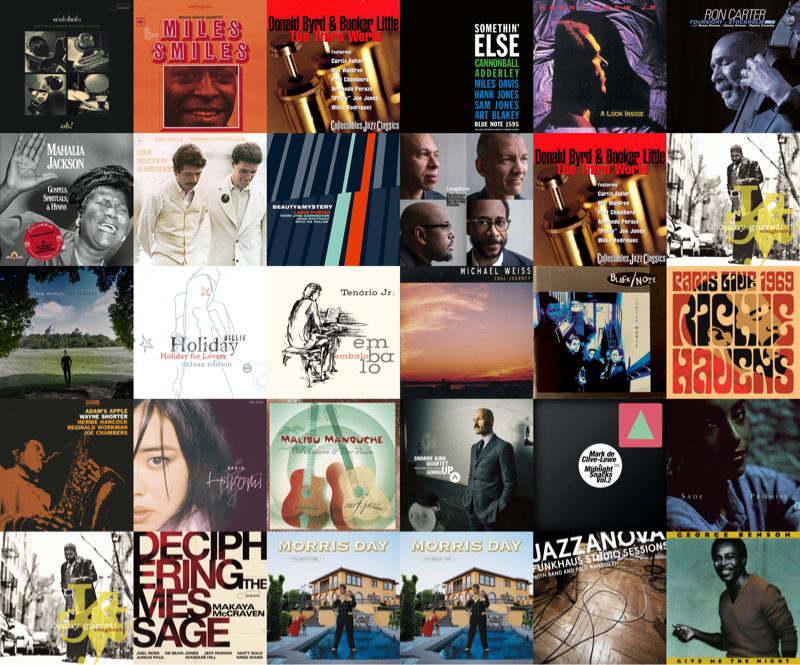 Today we listened to Miles Davis, Cannonball Adderley, Kenny Drew Jr., Ron Carter, Mahalia Jackson, Carlos Santana & John McLaughlin, Terri Lyne Carrington, Michael Weiss, Black/Note, Richie Havens, Sade, Makaya McCraven, Morris Day, Jazzanova, and George Benson.
Thanks for being part of #JazzChurch! We made a #JoyfulNoise! 🎶🎙🎵
Brandyn – Scolohofo
Gingerbread Boy – Miles Davis
Chasing the Bird – Booker Little & Donald Byrd
Autumn Leaves – Cannonball Adderley
Bloodcount – Kenny Drew Jr.
Flamenco Sketches – Ron Carter
It Is Well with My Soul – Mahalia Jackson
Let Us Go Into the House of the Lord – Carlos Santana & John McLaughlin
Day Is Done – Terri Lyne Carrington, John Patitucci & Lewis Porter
Long Gone – Joshua Redman, Brad Mehldau, Christian McBride & Brian Blade
November Afternoon – Philly Joe Jones, Eddie Shaughnessy, Booker Little & Mal Waldron
November 15 – Kenny Garrett
November – Ben Wendel
They Can't Take That Away From Me – Billie Holiday
Carnaval Sem Assunto – Tenorio Jr.
Orient Express – Michael Weiss
Introspection – Black/Note
Freedom – Richie Havens
Teru – Wayne Shorter
Green Tea Farm – Hiromi
Malibu Manouche – Neil Andersson
Going Up – Snorre Kirk & Stephen Riley
Sorceress (for Chick) – Mark de Clive-Lowe
The Sweetest Taboo – Sade
Ms. Baja – Kenny Garrett
Black Rhythm Happening – Makaya McCraven
The Bird – Morris Day
Jungle Love – Morris Day
Believer – Jazzanova
Give Me the Night – George Benson
Listen to this episode at:
You can find next week's #JazzChurch live stream at postbop.com/jazzchurch. We'll be streaming live next Sunday from 1 to about 4 PM PST. You can find past episodes on this page as well
---
Apple Music Playlist
Here's an Apple Music Playlist containing songs from this episode of #JazzChurch:
---
#JazzChurch Feedback and Suggestions
Rev. Bill E. Bob is looking for feedback on #JazzChurch! Please visit #JazzChurch Feedback if you have a moment and share your thoughts. Thanks!
---
Next week's #JazzChurch live stream can be found at postbop.com/jazzchurch, Streaming live from 1-4ish PM PST. Past episodes are available here as well.
Postbop.com: Livestream plus audio archives and information for all past shows
Twitch Livestream: 1-4pm-ish Pacific Time on Sundays
Soundcloud: Listen to past shows and subscribe to receive notifications, and listen to future shows